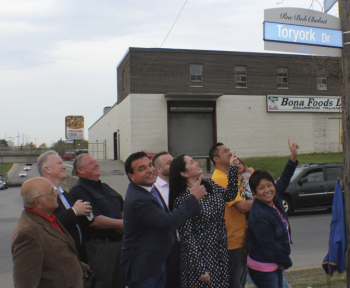 By Sean Delaney
Toryork Drive sounds fine but how about Rue Bob Chabot? Got a nice ring to it, doesn't it?
In this case a fine Bordeaux compared to homemade beer.
On May 16th, a large group gathered to take part in one of Emery's most recent road naming celebrations, honouring much loved local Businessman, Bob Chabot.
Bob was a larger than life man in the Village. He was always willing to lend a hand or take on the local area problems. Whether it was traffic control, parking, the environment or lending a hand with helping many local charities, Bob could always be counted on to deliver. Anybody who is anybody in Emery has an interesting story to tell about Bob.
He built a formidable Toronto business called Centennial Sweeping. Starting with one truck, Chabot was able to grow the Centennial fleet to more than 100 trucks in just a few decades. Centennial services are always in demand. The OPP and MTO contact Centennial when an unlucky road disaster happens, and authorities can count on Centennial to deal with clearing the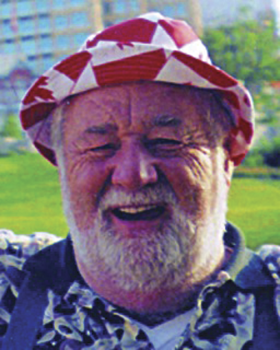 mess as soon as possible. Bob fell in love one day with an equally hard working friend who became his wife. He passed away in 2010. Lina and Bob were married for 30 happy years. We know that the co-naming of Toryork to Rue Bob Chabot was an emotional moment for all but especially Lina - loving wife, daughter Lorraine and son Raymond. This honour is a testament to his love of family and the Emery Village community. Bob is missed by many each and every day.