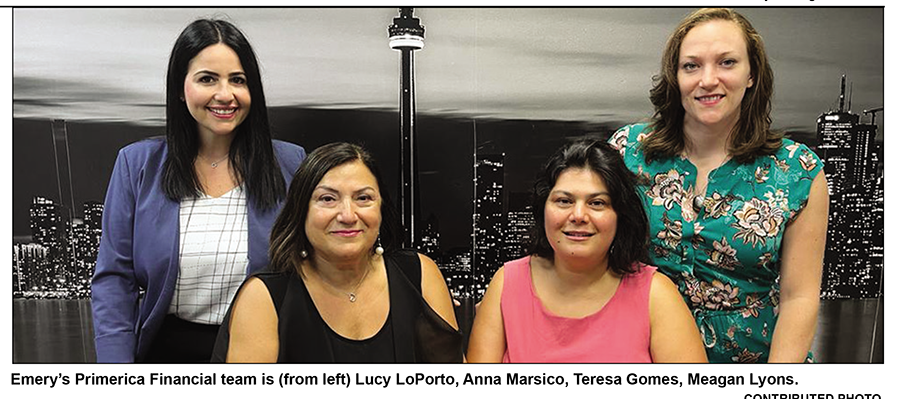 By Sean Delaney
Since 1986 Primerica Financial Services has been providing sound financial advice to Canadians and their families.
And today, their services are available to Emery Village families through Teresa Gomes, Anna Marsico, Lucy Lo Porto, and Meagan Lyons in a convenient location on Wilson Ave.
"We're a financial services company," said regional Vice President Gomes. "We focus on personal finance, advising people on debt strategies and how to save and invest for themselves."
And the team on Wilson Avenue has a particular focus on middle-income families. Gomes said the hard-working middle-class families who would like a financial advisor's advice but generally can't afford to hire an advisor.
"Primerica focuses on that middle-income family, helping them with various different types of strategies and helping them with their finances," she said. "Things that we offer is a complimentary financial needs analysis for our clients, which is not something we charge a monetary fee for. Within that analysis, if they're younger, we usually focus on helping them buy a house, putting income protection in place, protecting their assets, and building toward retirement. If they are older, it's how can we strategize on maintaining money they have accumulated over the years to help them properly retire."
For example, Gomes said she is working with an older client who just sold a rental property. So, together, their focus is working on how they can invest that money properly so the client can have as comfortable a retirement as possible.
And Gomes said it is a perfect investment time for clients, as the markets are low.
"I always tell clients, would you rather buy something at full price or half price?"
And the Primerica team in Emery loves advising young people as well. With younger clients, they know the focus is typically a housing purchase, so Gomes said she will create strategies matching clients' goals.
"I create a strategy of let's pretend you are paying a mortgage," she said. "Because one day they're going to have to handle that. So, I bank that as savings to build up that down payment."
And there is a lot to think about, including paying off student debts as quickly as possible, having an emergency fund set up, and continuing to plan for retirement.
That's why professional help can be a serious asset.
Gomes said they are used to travelling to clients' homes and meeting at all hours of the day. Today, they will accommodate in-person, virtual, or any meeting style. And at Primerica, they will allow the client to choose how they meet to ensure they feel comfortable and safe. Simply reach out and discover what Primerica can do for them.
"We are also inviting all Emery Residents to our open house on September 17th from noon to 2 p.m. at our office for refreshments and light snacks."
Primerica can be found at: 1885 Wilson Ave, unit #212
You can phone them at:
416-741-2148
Email them at:
info_4rvps@gmail.com
Or find them online:
www.primericacanada.ca