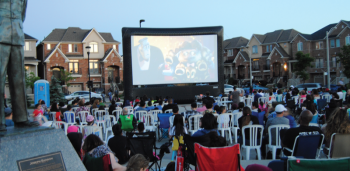 By Sean Delaney
Strong neighbourhoods build strong communities. It's essential for people to get out of their houses, mingle and get to know those who live around them.
Fortunately, the Emery Business Improvement Area (BIA) along with the City of Toronto had the foresight and resources to design and build one of only a few common area community gathering places, Joseph Bannon Park.
And what better event to host and draw families into the open than a free, family-oriented Movie in the Park.
A favourite time of the evening is watching the hundreds of children playing together and seeing their smiling faces as the excitement builds.
The first of the movie nights is always on the eve of the last day of school.
Gaining considerable momentum from last year, a huge crowd attended the first Movie in the Park on June 29th (after a one-day rain delay) for the blockbuster, Hotel Transylvania 3.
Tradition dictates that Sandra Farina, Executive Director of the BIA, start the movie with the official countdown.
Salutations from Ward 7 Councillor Anthony Perruzza and MPP Tom Rakocevic were also offered.
"Happy Canada Day and wishes for a safe and enjoyable summer holiday," Perruzza said.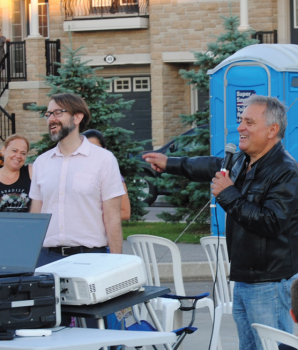 A second Movie in the Park took place on July 19th. With menacing thunderclouds overhead and a little help from the cinematic movie Gods, the rain held off.
Snacks flowed from the concession booth and with so many people under the inflatable big screen, it was a magical night.
The Emery Village BIA wants to thank everyone for attending both of the events. Many of the community members stayed around after the movies to help clean up, and it was much appreciated.
Sandra Farina, Executive Director of the BIA said, "Enjoy your summer and we look forward to seeing everyone again next year."