By Sean Delaney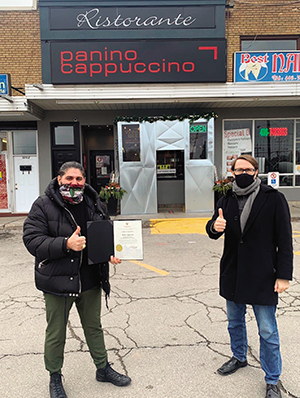 An Emery Village restaurant was named the Top Choice Award winner for best Italian restaurant in Toronto for 2021.
Being honoured with a Top Choice Award is not an easy accomplishment. Top Choice Awards are bestowed annually, and reserved for only the best of the best.
Congratulations to Panino Cappuccino and founder/owner "We did it," said owner Fabio Caracciolo. "This could not have been done without the dedication of our team and love from our customers, and for that, we are very grateful to you all. Words cannot express how warm our hearts are from all the support we've received from our community. And I wouldn't have been able to win this award without the hard work and dedication from my brothers Sam and Tony, along with Head Chef Charles, and the best staff an owner could ever have."
Do yourself and your family a favour and visit Panino Cappuccino for the best Italian food that Emery has to offer. The restaurant is known for family sized daily specials and prepared sauces. .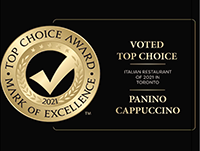 And all of its offerings are available through popular delivery services Skip the Dishes and Uber Eats
For takeout, their menu is online at: paninocappuccino.ca
You can find them at 3218 Weston Road and on Facebook and Twitter.
Or, you can phone them at: (416) 741-4646.
Top Choice Awards collects and reviews the opinions of thousands of customers. Their trusted directory of Top Choice Award winners are used daily in more than 30 cities across North America and Europe