Year in Review - 2020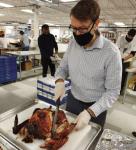 Service continues to be an honour, Rakocevic By Sean Delaney Tom Rakocevic, MPP for Humber River-Black Creek, said it has certainly been an unprecedented year, but that hasn't stopped him from getting to work. With the pandemic dominating headlines and needs, the virus has been his priority in 2...
Recreation impacted by COVID-19
By Varad Mehta Safety of players is paramount, said a local soccer club. F.C. Emery felt the impact of the COVID-19 concerns after Ontario Soccer cancelled all sanctioned soccer events and activities in the province until further notice. Angel Granja, an official with F.C. Emery, said they ant...