Yesterday and Today - Jan 2021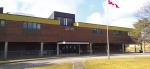 By Tim Lambrinos Reflections of G.B. Warren Junior High School The Humber Summit Middle School provides classes for grades six through eight and is located at 60 Pearldale Avenue. The school is located just north of the Finchdale Plaza along Finch Avenue West. The school operates from a curricu...
Safety is our priority – school trustees

By Varad Mehta As the school year approaches, students will face several changes such as: Quadmester for secondary students, and wearing a mask where two metres of social distancing cannot be maintained. Christopher Mammoliti, Ward 4 Toronto District School Board (TDSB) trustee, said the scho...