Year in Review - 2020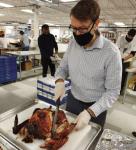 Service continues to be an honour, Rakocevic By Sean Delaney Tom Rakocevic, MPP for Humber River-Black Creek, said it has certainly been an unprecedented year, but that hasn't stopped him from getting to work. With the pandemic dominating headlines and needs, the virus has been his priority in 2...
Businesses challenged by COVID-19 outbreak

By Sean Delaney (Due to some concerns we're not mentioning the full name of one of our sources) . Workers depending on every paycheque, could be impacted if the coronavirus pandemic worsens, said an official for a large local manufacturing facility in Emery Village. Amid the COVID-19 outbre...