Yesterday and Today - May 2022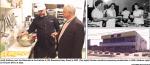 The continuing legacy of Tony's Ballroom By Tim Lambrinos Throughout Canada, there are individual family traditions passed down by previous generations. Some traits may be cultural, and others might merely be family traditions. These inherited characteristics are passed down to younger ge...
THE HISTORY OF THE MP's of EMERY VILLAGE

By Tim Lambrinos Back in the day, individuals that were born and bred from rural areas were indeed very rarely received as capable elected representatives. Emery was very fortunate to have a resident-based sophisticated family, the Griffiths from Scotland, as one of the initial pioneer names...