Yesterday and Today - Dec 2020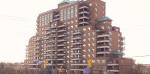 From dairy farm to affordable housing By Tim Lambrinos All over the world, there are new ideas envisioned by scientists, inventors, planners, politicians or sometimes just by everyday people. Yet when a vision becomes so clear and the timing seems to be just right, this is when a vision can trul...
Weather holds up for annual gathering at Pine Ridge cemetery

By Sean Delaney It happens the last Sunday of August – every August. Descendants of Emery Village and Humber Summit's historical pioneers gather to meet and reflect on memories of their earlier ancestors. On Sunday, August 28, the Pine Ridge Cemetery Board of Trustees officially met for their ...