Executive Director's message - Dec 2020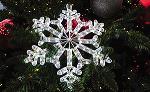 As we finish the holiday season and enter the new year, it is important to help keep our community and employees safe – we encourage all BIA members to take Emery Village BIA's SkillsPass COVID-19 Work Safe Course. Find out more online at: emerybia.skillspass.com If you have not yet done so, y...
A tradition of helping their neighbours in need

By Sean Delaney The North York Harvest Food Bank has been open since 1985. Although 35 years ago, it began as a small non-profit started by a small group of volunteers intent on just getting food to their neighbours. "It was about just helping out those who need help," said Henry Chiu, Direct...