Seniors - Mobility for good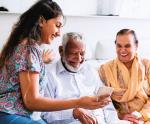 By Sean Delaney It's not often that the Emery Village Voice recommends a product or service, but given our current state of affairs due to COVID-19, better communication has become essential between families and their loved ones - especially within immediate families and families with seniors in lo...
Thank you Charity Ball sponsors

What an unbelievable event. The third annual Emery Village Charity Venetian Ball was an overwhelming success. The music, the food, and the ambiance; Fontana Primavera had it all. The night would not have happened without our wonderful sponsors. Here at Emery Village Charities we would like to...