Year in Review - 2020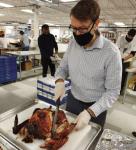 Service continues to be an honour, Rakocevic By Sean Delaney Tom Rakocevic, MPP for Humber River-Black Creek, said it has certainly been an unprecedented year, but that hasn't stopped him from getting to work. With the pandemic dominating headlines and needs, the virus has been his priority in 2...
A first step at Queen's Park to improve new home warranty protections

By Tim Lambrinos The Province of Ontario has empowered Tarion Warranty Corporation to administer warranties for newly built homes. The corporation operates with an accountability agreement with the province. On Oct. 30, Tarion Warranty Corporation publicly accepted an Auditor General's Report a...