Kitchen24 never ceases to amaze, or let the needy down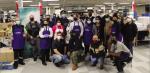 By Sean Delaney Steve Kidron, the owner of Kitchen24, is feeding even more of Toronto. Recently, Kidron cooked and packaged 15,000 meals for the community. "When COVID-19 first hit, it became apparent that prepared meals were necessary for people facing food insecurity," said Kidron. Kidron wa...
Community Police Liaison Committee (CPLC) meeting held

By Sean Delaney The Community Police Liaison Committee held a community meeting on Jan. 11 at the Carmine Stefano Community Centre. Staff Sergeant Blanchard of 31 Division explained that the Toronto Police Service (TPS) will release a "Calls for Service" portal on www.torontopolice.on.ca beg...