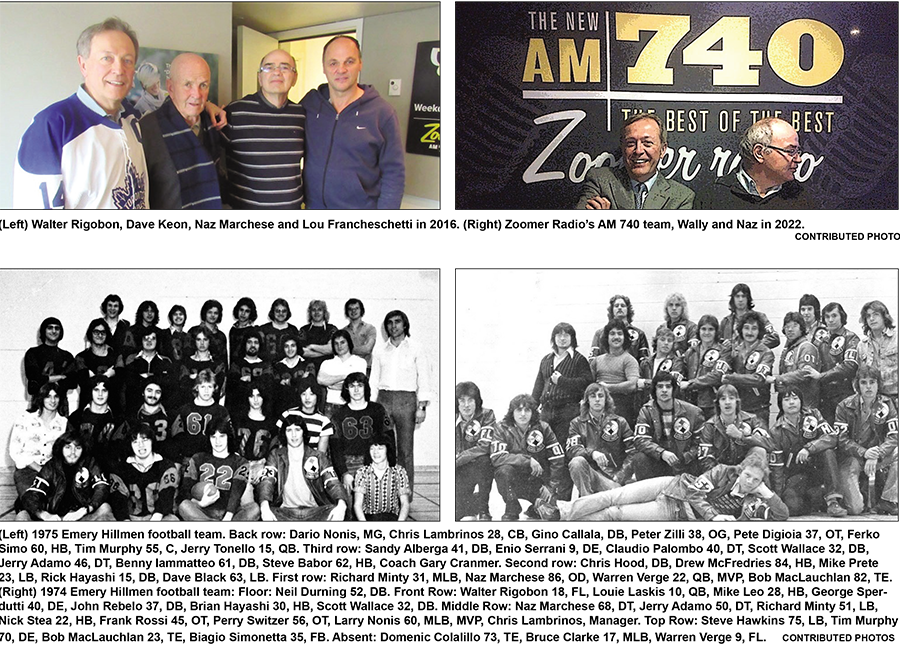 Yesterday and Today
Emery's re-connected sports graduates
By Tim Lambrinos
Growing up there are certain accomplishments that create close bonding experiences to last the course of one's entire life. Such was the case when two former Emery Collegiate graduates reconnected sometime later in life to now host a popular local radio sports' talk show.
Their climb to their success originated with the building of many different relationships during their formative years at Emery. And more significantly by playing sports.
In 1971, Naz Marchese was enrolled in grade nine at Emery junior high school on Weston Road. At the age of 14, Naz was indeed the size of a man. He was a standout member on both the school's football and basketball teams. The Marchese family resided on nearby Lindylou Road in the Daystrom area. One famous junior high school incident occurred when Marchese had organized a student walk-out to protest some substandard student conditions. Marchese recruited dozens of loyal protestors but unfortunately Principal Roger E. Lillie caught wind of the planned demonstration before it could begin. Lillie had started his teaching career at Beck Secondary School in London, Ontario. There, he taught band music along with organizing a boys' club for military field training. His military background had always been suspected by his students as Lillie had meticulously memorized all the students faces and names, by their school photographs. As such, Lillie rarely went on the PA system to give the morning announcements. That duty was left to Vice-principal, Mr. Brown. However, on this particular day, Roger Lillie made the morning announcements himself and started by stating that "anyone caught participating in the walkout organized by Naz Marchese will be immediately suspended." This threat was enough to quash anyone's intentions to participate in the rally. Marchese went ahead alone with his planned walkout and was not suspended. At the same time, Walter Rigobon was a student enrolled at Emery senior high. The Rigobon family were brought up on Ardwick Boulevard in the Bluehaven area. In elementary school, Rigobon participated in the school's run for a baseball championship along with teammates Mike and Frank Locicero, Joe DiPasquale, Rob Gabriel, Leonard Lynn, Frank Jakubowski, Dave Gaston, Frank Belyk and Angelo Castelan. Marchese and Rigobon's paths would cross several years later, not in class, but on the football field.
At Emery, Walter Rigobon was a serious academic, blessed with good athletic ability. When he met Marchese, they were both trying out for coach Gary Cranmer's Emery Hillmen senior boys' football team. In 1974, the Hillmen had a respectable season but were knocked out of the playoffs in the first round by York Mills. Rigobon was a highly regarded outside receiver on the team. With his size, Marchese was known as a feared standout on the defensive line. Other notable players on the team included Louie Laskis, Brian Hayashi, Steve Hawken, Mike Leo, Bob MacLauchlan, Larry Nonis, Frank Rossi and George Sperdutti.
Rigobon's leadership skills also began to flourish throughout this time as he enrolled in numerous volunteer positions at school. These included playing for the junior basketball team, organizing the layout for the school's yearbook design and being a contestant on Emery's 1975 team for the popular television show called Reach for the Top. Other members on Emery's team were Danny Hamilton, Kirk Gladstone, Norman Mills and Jim Crawford.
Rigobon was recognized as an Ontario scholar in 1975 and was awarded an additional two scholastic achievement awards as a recognized home economist and being the top student in history for his graduating year. As one of the top dual award winners, Rigobon graciously posed for the official photo along with another double winner, Esther Terra.
With Rigobon off to university, the following football season arrived for the 1975 Emery Hillmen.
The team would return many experienced veterans and make another good run at the North York football championship. With a full year under his belt, Marchese, now playing on both the offensive and defensive lines, helped the team achieve a winning season in regular season play. Notable players on the squad included Richard Minty, Warren Verge, Drew McFredries, James Higgins, Jerry Adamo, Mike Prete, Tim Murphy, Peter Zilli, Jerry Tonello and Pete Digioia. Once again, the Hillmen lost in the first round of the playoffs to the eventual overall winner, York Mills.
After departing Emery, both Rigobon and Marchese have been successful in their professional endeavours. Rigobon continues to be regarded as a respected corporate lawyer.
These days, Naz Marchese and Walter Rigobon reconnected in life once again and they now host a sports' talk show on Zoomer radio. It is called the Naz and Wally Sports Hour and they have been known to interview a vast array of sports' celebrities on their show. Their topics focus mainly on current affairs about Toronto teams but also include insight into international play, as well. The Leafs, Raptors, Blue Jays, Argos and the Buffalo Bills are often their most hotly debated topics. And sometimes men's and women's national soccer teams get in for a little back and forth action too. While in the studio, Naz and Wally have interviewed known hockey greats Don Cherry, Scotty Bowman, Dave Keon, Darryl Sittler, Paul Henderson, Johnny Bower, Frank Mahovlich, Yvan Cournoyer and Phil Esposito. Some other sport stars they've had on their show include Sweet Daddy Siki, Ted DiBiase, Marv Levy, Donovan Ruddock and journalists Stephen Brunt and Peter Mansbridge.
The Naz and Wally's sports show airs live every Sunday morning beginning at 9:00 a.m. on AM 740 and downtown Toronto at FM 96.7, Zoomer Radio. Their show also airs live through the internet so you can hear and watch them too. So, if you're travelling abroad and have access to the internet, you can catch up on the local sports news at:
www.zoomerradio.ca
Then, just click on Listen Live and you'll hear these two former Emery graduates, on the air, live.
Sports truly is and has always been their business and their passion.