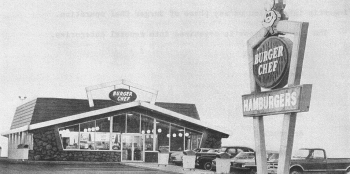 The first burger wars on Finch Avenue West
By Tim Lambrinos
As the 1960's came to a close, Canadians seemed ripe for a fast-food invasion from the corporate neighbours to the south. KFC's were emerging and the Red Barn was beginning to open up. The 'invasion' would overwhelm Canadian companies attempting to compete, since the infiltration was coming from huge mega-corporations, like General Foods Corporation, that had already established strong U.S. corporate backing. At the time, Canadian owned franchise restaurants like Harvey's were an obvious choice for a corporate takeover by a large U.S. based corporation.
American executives from General Foods' restaurants, called Burger Chef, made no qualms about their intentions to revolutionize Canada's fast-food landscape.
"We're not going to reinvent the wheel," Vice president C.C. Skinner told the Globe and Mail at the time. "If there is something that other people can help us with, we will use it." One possible source of this help was to come from homegrown Harvey's hamburgers that began operations in Richmond Hill in 1959. General Foods considered a possible merger with Harvey's in late 1968. When they decided Harvey's hamburgers were not a beautiful thing, Harvey's management accused the food giant of dealing in bad faith and cancelled their contract to purchase coffee supplied to them by General Foods.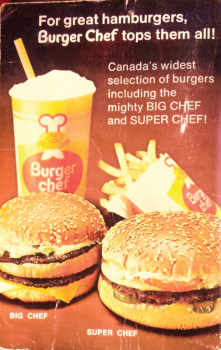 Burger Chef was started in 1954 by U.S. inventors Frank and Don Thomas. At the time, the brothers were running a milkshake-mixer manufacturing company called General Equipment Corporation. Their firm was selected to invent a flame-broiler for an up-and-coming fast food chain known as Burger King.
During the broiler's design phase, it became apparent to Frank Thomas that it might be more lucrative to sell their newly designed flame-broiler themselves if they had a store that could showcase their new grill. And with that idea, the brothers decided to cut ties with Burger King and forge ahead to showcase their new designs within their own store. In May 1957 in Indianapolis, Indiana, U.S.A., Burger Chef was born.
It wasn't long before Burger Chef restaurants popped up across the United States. By 1968, General Foods Corporation acknowledged the potential and purchased the entire Burger Chef chain. At the time of the purchase, they were operating 600 locations across 39 states. General Foods continued opening another 600 new outlets all while contemplating possible expansion into Canada.
General Foods now seemed primed and ready to use their advertising budget and go head-to-head against McDonald's. Burger Chef had already been known for their innovative marketing approaches such as implementing campaigns that would directly target child consumers. General Foods' first step was to create friendly characters that would appeal to youthful customers as well as a meal designed exclusively for children. They created The Monster Burger, The Fun Burger and The Fun Meal – similar to the happy meal offered by McDonald's today. The Fun Meal attempted to enhance a child's sit-down dining experience with riddles, puzzles, peel-on tattoos and small toys.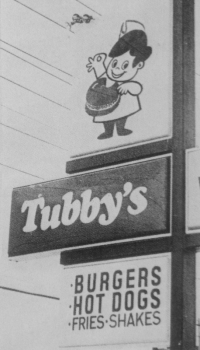 Burger Chef's expansion into the Canadian market included establishing one location just west of the intersection at Finch and Weston Road. Burger Chef opened their doors to Emery, along with two other North York locations, on Saturday February 7, 1970.
Other locations were on Wilson at Beverly Hills Drive and on Sheppard Avenue East near Victoria Park Avenue. At the time of Burger Chef's three-outlet expansion into North York in 1970, they had 1,200 locations in the U.S., surpassed only by McDonald's at the time.
Their menu featured thick milkshakes, a double burger called the Big Chef and a quarter pound hamburger called the Super Chef. They also offered the Fun Meal, the Fun Burger and the Works Bar where customers added their own extra toppings to their hamburgers. There was also a meal package known as "The Triple-Treat" that was the first value/combo meal of its kind consisting of a hamburger, fries and milkshake.
Canada's new Burger Chef outlets featured an exclusive coupon booklet called the Pro Hockey Guide. This player programme was designed exclusively for Canadian children who were fans of the NHL. The booklet cost 25 cents, listed all NHL players' names and team stats and had 80 cents worth of redeemable coupons in it.
By 1970, Tubby's hamburger restaurant opened up along this same stretch of Finch just west of the new Burger Chef. Tubby's offered fresh, conventional toppings on charbroiled burgers, steak on a bun, hot dogs, home-cut french fries and milkshakes with traditional takeout service.
However, they did not attempt to match Burger Chef's youth oriented marketing campaigns and merely worked on word of mouth advertising.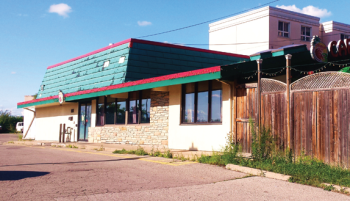 In 1976, Tubby's enlarged their restaurant to include a licensed dining room that catered mainly to the community's large under-age crowd. The location would continue as a community mainstay for several decades while offering service late into the evenings on Friday and Saturday nights. Tubby's hamburgers was replaced by a Burger King in the late 1990's. Wendy's restaurant also made an appearance along this same strip of Finch in 1981. When McDonald's relocated from the Finch West Mall in the early 2000's, they took over the former Wendy's building.
The company known as Burger Chef no longer exists as it was sold to Hardee's by General Foods more than 20 years ago. Most of Canada's original Burger Chef buildings continued to operate as conversions into Crock N' Block family style restaurants, well into the 1980's. They specialized in prime rib and Yorkshire pudding.
Even though Emery's original Burger Chef restaurant has long been gone, something still remains from this first local fast-food burger location. The building itself was built as Burger Chef's Cosmopolitan II and resurfaced as a Crock N' Block.
Caribbean Heat 3 restaurant now occupies the Cosmopolitan II building at 2353 Finch Avenue West and specializes in family dinners, combos, BBQ's and cheesecake or velvet cake and have a fully enclosed outdoor patio.
Burger Chef's other nearby former location at 1723 Wilson Avenue is now an empty parking lot. The other Cosmopolitan II building in North York still stands today as Captain's Catch restaurant located at 2111 Sheppard Avenue East.
Burger Chef's original buildings stand today as a tribute to the ultra-modern design efforts of the 1960's era.