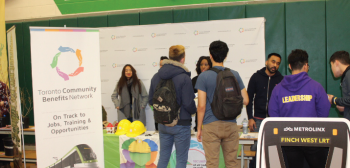 Make Your Future 2 Job Fair
By Sean Delaney
On April 25th, Westview Centennial Secondary School was host to the area's second successful youth job fair - the Make Your Future 2 Job Fair (MYF2).
There was a hum, buzz and rumble generated by excited teens anxiously waiting to take in all that awaited them in the school auditorium, approximately 40 potential employers or represented industries all looking for fresh faces and recruits. What a perfect day to figure out what occupation or industry one may want to consider after their graduation. A combination job fair/career information event, MYF2 featured exhibits by many private and public sector organizations. Some are currently looking to hire young people; while others offer training for specific sectors that are hiring immediately and others were offering guidance and information on how Grade 11 and Grade 12 students can plan to get on a successful career path.
The attendance for the event was approximately 500. Other schools attending MYF2 at Westview Centennial were; CW Jeffries; Downsview Collegiate; Emery Collegiate; West Humber and Monsignor Fraser College.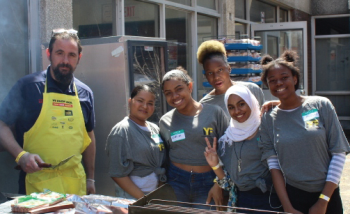 Did someone mention the food? Danny Durante (what a generous man), owner of Durante's No Frills, donated the lunch for everyone. Durante, along with a posse of willing hamburger patty makers (Westview students), estimate they flipped more than 400 burgers. Don't forget 250 hotdogs for those that needed seconds.
Newly minted 31 Division Inspector Lisa Crooker, recently returned to the Jane-Finch community, where she started her career in policing and said she is happy to launch MYF2 as one of her first events.
"We are excited to be a part of this incredible day. Toronto Police Service recognizes the importance of providing the opportunity for our youth by investing in their future. Make Your Future brings together key stakeholders, partners, trades and local businesses with the goal of education, awareness and opportunities for youth. Thanks to Fire, Defence, a wide variety of construction trade unions as well as the film industry and a variety of other groups for their optimism and encouragement. We all know that there is opportunity in this economy, and it was everyone's hope that for this day, the young men and women who attended were provided the access and resources to get on the path to a fulfilling career. We all want them to know this, and Make Your Future is filling this need."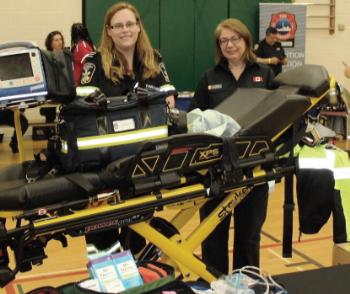 "We are very pleased to be hosting this amazing event at Westview," said Westview Vice Principal Karen Lorinczi. "It will be a fabulous opportunity for students to see the many career pathways available to them and speak directly to the frontline people in these careers. We have a lot of students from Westview involved in the organization of this event and they are very excited to be part of it and learn about all of the possibilities out there for them." Information about careers in 28 construction trades was available, along with the large training trailer used by LIUNA Local 183, the construction union responsible for a wide range of apprenticeship programs in Ontario.
For more information, along with a complete list of sponsors, visit the website at: makeyourfuture.ca
Organizers offered thanks to the generous sponsors including: Greenwin Inc.- Intelligarde - Ontario Construction Secretariat - International Union of Painters and Allied Trades Ontario Council - Finishing Trades Institute - Unifor and LiUNA.