By Sean Delaney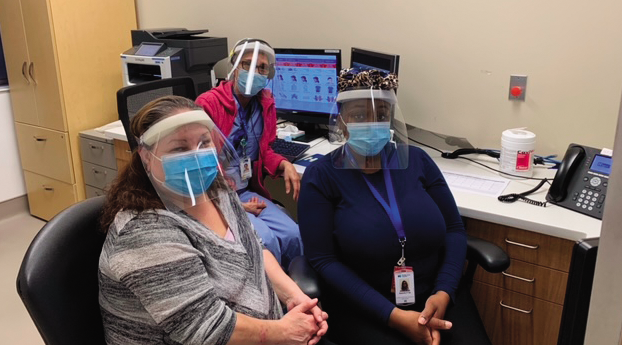 Humber River Hospital (HRH) offers virtual urgent care visits for patients (10 years or older). The initiative makes it easier for residents to access the care they require in a safe environment.
The program gives those aged 18 and older the ability to book a virtual appointment to connect with a doctor through secure video using the Microsoft Teams platform.
These virtual appointments are available seven days a week from 5 p.m. to 10 p.m., on a first-come, first-served basis with scheduling opening at 4 p.m. each day and closing at 9:30 p.m., or when all appointments have been filled.
If all virtual visit slots are full, the hospital recommends you attend your nearest emergency department or urgent care clinic in-person. And if you are in severe distress, they recommend calling 911, or attending your nearest emergency department.
"The virtual clinic was launched in collaboration with the Ministry of Health as a way to increase access, and reduce risks," said Kyle Shermet, Manager of Emergency Service for HRH. "The goal is to be able to provide care for the non-acutely ill patients that need to see a doctor but don't feel the need to come to an emergency department but may be finding it difficult to get into a family doctor or clinic."
In other words, Shermet said, it allows people to get the care they need while remaining socially distant and prevents the crowding of emergency departments during the pandemic.
To book a virtual urgent care appointment, you must be 18 years or older and you'll need a reliable internet connection, an email address, a computer, smartphone, or tablet with a microphone and video capabilities for using Microsoft Teams and a valid OHIP card (and you need to currently be in Ontario). If you do not have a valid OHIP card, you are asked to visit your nearest emergency or urgent care clinic in-person.
During your appointment, you will need a quiet, private place to have a conversation with the doctor and you are asked to prepare yourself physically. Try to wear clothing that will allow you to show the doctor the area of concern, (for example, wear shorts if you will need to show the doctor your leg), have a family member or friend to help translate if needed.
"Our goal is to increase and improve the access to care for some of our more vulnerable populations," Shermet said. "People who would have trouble with transport, might not be able to easily get on public transit or who may not have the ability to easily get to our emergency department."
According to the Humber River Hospital website, The Virtual Urgent Care clinic is not right for you if you are experiencing:
• Chest pains or racing heartbeat
• Breathing problems
• Vomiting and inability to drink fluids
• Fever/severe pain that is not improved with acetaminophen/ibuprofen (i.e. Tylenol/Advil)
• Neck stiffness or severe headache
• Serious injuries (i.e. bleeding that won't stop, deep cuts, head injury)
• Possible broken bones (i.e. bones or joints look different, cannot put weight on injury)
• Difficulty speaking or swallowing
• Loss or change of vision
• Numbness or weakness of the face or body
• Facial droop
• Inability to walk
• New confusion or memory problems
• New or worsening seizures
• Pregnancy and labour problems
• Opioid pain medicine prescriptions or renewals
• Suicidal ideations/ mental health crisis
To learn more, or to book an appointment, visit the hospital online: www.hrh.ca/virtual-uc/