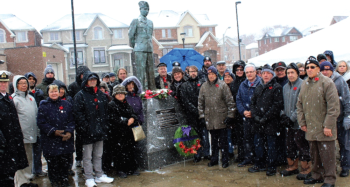 By Sean Delaney
Snow fell softly over Emery's Joseph Bannon Park on Monday, November 11 as a gathering of residents, politicians and military members paid tribute to the sacrifices made by Canadian soldiers, both past and present.
Now in its seventh year, the service around the Joseph Bannon statue also welcomed army staff who all stood in salute during the ceremony and accompanying minute of silence.
The poem In Flanders Fields, written by John McRae and originally published on Dec. 8, 1915 was read by Emery Business Improvement Area (BIA) board member, Tim Lambrinos.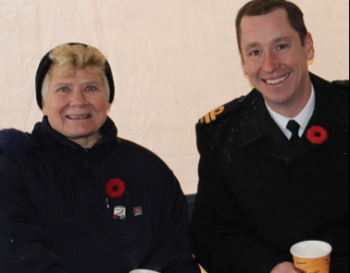 While the many attendees observed a moment of silence, Humber River - Black Creek MPP Tom Rakocevic had the honour of laying the wreath at the base of the Joseph Bannon statue. Ward 7 Councillor Anthony Perruzza addressed the assembly in Italian, showing respect and giving recognition to the many Canadian soldiers of Italian heritage that gave up their lives as well.
Vittorio Mazzucca lent his expert trumpet skills to the ceremony, playing The Last Post on his trumpet.
A special thanks was given from those present to Rocco Di Giovanni, President of the North Islington Seniors Club along with the club members that helped to celebrate Remembrance Day and honour all of the fallen heroes. Also present were members of the 31 Division police force as well as Ralph Shepherd, local Tim Hortons owner and long-time member of the BIA.
The importance of Remembrance Day is that Canadians don't just honour our fallen soldiers, but also the ones who are still serving and their families. But time is taking its toll.
Many of Canada's first World War veterans are gone. And the average age of the remaining second World War veterans is 95. Unfortunately, Emery lost a local veteran, Christie George. George passed away on July 16, in his 97th year. His daughter, Edith George was on hand and had an opportunity to pay respects to others and enjoy a special time to remember her loving father.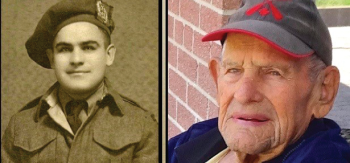 The Emery Village BIA expressed gratitude for the community turnout and would like to thank everyone in attendance for sharing such a meaningful moment remembering those who gave their lives as well as those who continue to serve in the Canadian Forces. The BIA looks forward to seeing everyone again next year.