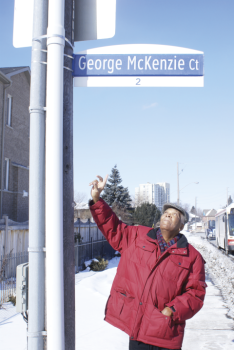 The story behind George McKenzie Court
By Sean Delaney
While he's known for his bright smile, and his positive attitude, many people in Emery Village may not know just how much of a hand George McKenzie has lent to their lives.
He moved to Emery Village 52 years ago, after moving to Canada from Guyana in 1956.
He remembers the farmland that used to surround the area. He remembers animals at the sides of the roads, and pheasants on them.
But most of all, he remembers one substantial day when he had just arrived in Emery.
"When we closed the deal on our house, it was also the day I bought a new car, and found out my wife was pregnant. It was quite a day," he said.
And McKenzie is a substantial resident.
The family man and teacher found a home in Emery that he has never left. The house he purchased on that day was the house in which he and his wife raised their three kids.
The streets around them had potential, he said. And so he got involved.
He sat on a resident planning committee that worked with the planners in the City of Toronto to design the future of Emery Village.
"It's probably what I'm most proud of," he said. "Sitting with that group and working on what this area would become. It was good work."
Charette after charette they worked to design the roads, the structure and the vision.
He's been proud to sit back for 50 plus years and watch it come to fruition. Much of it took a long time, but all of it makes him smile.
"There were court cases, once things started to happen," he said. Certain developments wouldn't want to move, some businesses would push back, but it moved along.
"Now, you can see the nice things are starting to move," he laughed.
The local BIA makes him proud. They are doing the work on the ground, he said, working with local businesses to improve streetscapes and frontages, to see buildings renewed and commercial and industrial development grow strong.
"The roads are being done, and there has been quite a lot of progress."
The other thing that makes him proud is the diversity the area now enjoys. For years, the faces were quite often the same, and now, different languages and different cultures are available on practically every corner.
His favourite benefit, the variety of foods to enjoy.
"We're very proud of the diversity," he said.
And planning the nuts and bolts simply wasn't enough for the involved McKenzie.
He worked for years with the local Rotary, focusing on youth programs like morning activity and breakfast programs, and fundraising for scholarships.
He also remains on the foundation board of the Humber Hospital.
As well, he was one of the local hands to reach out figuratively and literally to the community and organize the first food exchange.
"We were busy here," he said of his Rotary group.
The 82-year-old's work has now been immortalized – his name is prominently featured on one of Emery's street signs.
George McKenzie Court – named to forever symbolize the man so involved in Emery's beginnings.
McKenzie sees a bright future with the development that is under way.
If he could hope for anything, it would be an increase to the already diverse atmosphere of the area.
As well, an increase to the available entertainment, passive and active, would keep the man smiling. He'd like to see more recreation, a more active nightlife.
"It would be nice to have a concert hall here to go to plays, something for dinner theatre," he said from the very house where he made such a life.
He was surprised the day he heard the Court would be named in his honour. "You always want to do something, and then I guess you don't realize what you've done. How much."
Emery realizes how much this man has done. Now, everyone knows why George McKenzie Court is named as it is, and perhaps, when you see the notorious smile, share a thank you.