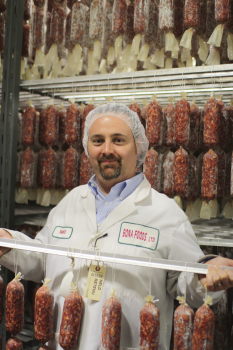 By Melanie Jonas
Tradition is one of those important words, which relates to many different things in our day and age. When I use it, I generally mean it to mean family.
Today I visited a company where tradition and family go hand in hand. Bona Foods Ltd. is a company where tradition is one of the most important ingredients they use in their Italian meats.
They specializes in Italian Meats including but not limited to; pancetta, salami, mortadella and prosciutto. Rino Arnone, a second-generation owner, was born into the food industry. Italian style meats are part of his upbringing; he knows you cannot cut corners in order to make a great product. That is what Bona Foods has been doing for over 40 years. Not only are the recipes the same as they have always been, but Bona Foods Ltd. produces all their meats under strict federal regulation. Bona Foods Ltd. has the highest level of food inspection, which means not only is the quality in the product, but it is also in the preparation of what you are eating. This is something every meat plant wants for their customers, satisfaction guaranteed.
After hearing about how wonderful their facilities at the plant are, I wanted to see it for myself. Rino took me on a grand tour of the plant, with stops in some of the largest freezers I had ever seen. Learning about how the meat is produced and the time and energy that goes into one sausage is surprising. What isn't surprising is why the company has been around for so long. The quality is as top shelf as their employers. I have never seen such teamwork than inside the plant. After taking a look at some of the magnificent looking product, I was craving a taste of my own. Rino was gracious enough to let me taste a few of the different meats which were all delicious, my favourite being the Soppressa. Don't take my word for it, taste it for yourselves. You can find Bona Foods Ltd. products at your specialty grocery store.