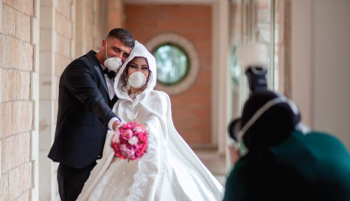 By Varad Mehta
Putting smiles on faces is rewarding, said a local wedding officiant.
Several couples have had to delay or cut back their wedding plans this year because of the COVID-19 pandemic. Worldwide, many COVID-19 related cases were linked to weddings where safety protocols weren't followed.
Dominic Nti, an official from Wedding Officiant Canada (local wedding services), said it's possible to have a great wedding while practicing the proper safety protocols.
Nti has officiated many weddings across the province. He recalls a wedding he officiated recently, once the COVID-19 restrictions were relaxed. He said there were less than 30 people at the wedding spaced out in the venue. Despite the restrictions, his clients put on an intimate wedding where love was celebrated.
Nti enjoys being part of weddings in any capacity.
"If you always look at it as serving people, then it goes a long way," he said. "It's rewarding."
According to the City of Toronto, supervised events (such as banquet halls) can hold up to 50 people indoors and 100 people outdoors. Unsupervised events (such as wedding receptions or parties) can hold up to 10 people indoors and 25 people outdoors.
Nti explained that because of the difficult times, he's had the opportunity to be a support system for young couples. He recalls providing support for a client who lost a parent due to COVID-19. The pandemic has allowed Nti to even reach out to past clients to check how they are doing. He feels privileged to have been part of his clients' special day and feels many couples will remain positive during this difficult time.
"We're talking about love here. We're talking about hearts, minds, affections, and feelings," he said.
Emery Village is home to many outstanding banquet facilities.
To find one, feel free to visit the Emery Village BIA's website and click on the Directory tab: www.emeryvillagebia.ca
For more information regarding indoor and outdoor events please refer to your municipal and provincial government's official sites for updated recommendations.