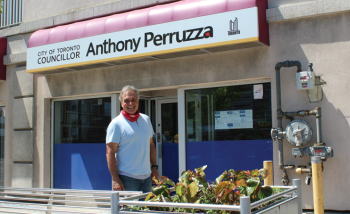 By Sean Delaney
The Emery Village Voice recently caught up with our Ward 7 Councillor, Anthony Perruzza.
Back in March, the Councillor and staff moved from their Keele St location to their new office in the heart of Emery, on Finch Ave.
Unfortunately, the office was almost immediately closed at the City's direction, due to COVID-19 concerns.
Ward 7 office staff have been primarily working from home during the pandemic, returning residents calls and organizing city services.
The good news is that soon there will be a rotation of two to three staff working in the office per day.
Social distancing and all the proper protocols in place, of course.
For now, the office is taking one-on-one appointments starting July 2nd, but constituents need to call beforehand to schedule.
The new office contact info is:
2350 Finch Avenue West, Suite C
Toronto, ON, M9M 2C7
416-338-5335