Contributed by Richelle Molaro – Humber Summit resident and dog owner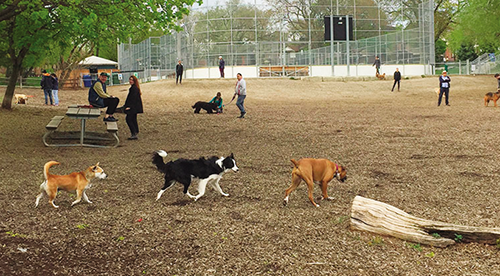 The residents of Emery Village are fortunate to have many tall trees and wide open spaces within easy walking distance. Access to our beautiful parks has become even more critical as we all make efforts to stay closer to home during the pandemic. But, are we making the most of these resources, and do they support our resident's needs, both two and four-legged?
Data from the City of Toronto from January 1, 2020, to September 30, 2020, shows thousands of dog owners in our community. For those of us who are dog owners, we appreciate the need for clean and safe areas to walk our pets. Many of us visit our local parks every day, getting our canine companions the exercise critical to their healthy development. While dogs have a chance to run and explore around them when walking on a leash, they cannot run for long enough periods to burn off all of their energy while staying close to their owners and off of busy roads. According to Playcore, a leading parks and recreation advisory site, off-leash dog parks are essential areas where dogs can run free, get adequate exercise without penalty. In addition, safety is promoted as pet owners are not allowing dogs to wander on busy streets and dogs can safely socialize with other dogs, which is vital to their development. Dog owners know that a tired dog is a happy dog, and a tired dog is less likely to engage in other destructive behaviour like digging, excessive barking, and getting into other shenanigans at home.
How can we use the resources we are so fortunate to have at our doorsteps to provide an essential amenity for dog owners and their pets? As a community, we could explore what it would take to have our own off-leash park in proximity?
When communicating with the City of Toronto about how to go about exploring this option, they advised that the first step to submit an application is to set up a Dog Owner's Association in our community. The Dog Owner's Association's role is to serve as a communication liaison between the City of Toronto and dog owners in our community. The good news is we have established a Humber Summit Dog Owner's Association, for which I serve as the co-Chair. We need our community's voice at the table. We would greatly value your participation and know that we representing our community in a meaningful way and using our collective strength with the City of Toronto for an off-leash dog park. Once we have garnered more members in the association, our next step will be to identify suitable areas for a dog park in a neighbourhood and submit a written proposal to the city through our Councillor's office (in Spring 2021).
How can you help? We are encouraging all dog owners reading this article or others interested in joining the association to contact us either by email: humberdogpark@gmail.com. Or by joining the Humber Summit Dog Owner's Association Facebook group. Together, we will make a lasting change in our community and have it reflect the needs of its two and four-legged residents.
We thank you in advance for your support.