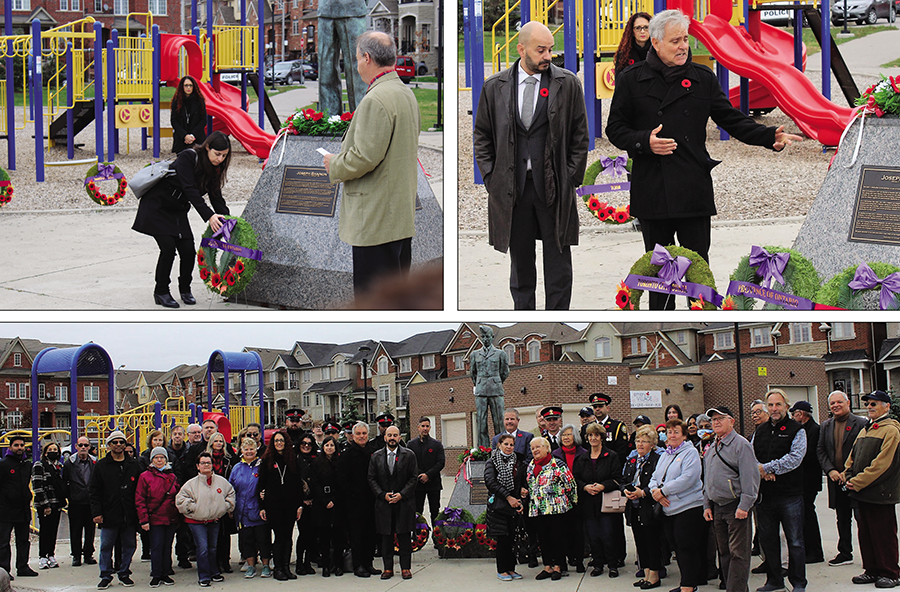 By Sean Delaney
The rain held off over Emery's Joseph Bannon Park on Friday, Nov. 11.
A large group of residents, politicians, and uniformed officers paid tribute to the sacrifices made by Canadian soldiers, both past and present in a service to honour those who have served.
Now in its ninth year, the Remembrance Day service around the Joseph Bannon statue welcomed many officers from 31 Division. With a call to present arms commanded by Superintendant Andy Singh, all officers stood in salute, followed by an accompanying minute of silence. New 31 Division Inspector, Don Therriault and Mark Tenaglia, civilian co-chair of the Community Police Liason Committee, were also on hand to help observe this important day.
The poem In Flanders Fields, written by John McRae and originally published on December 8, 1915, was read by Emery Business Improvement Area (BIA) Board Chair Tim Lambrinos.
Ward 7 Councillor Anthony Perruzza and the newly elected Ward 4 TDSB Trustee Matias de Dovitiis presented wreaths and addressed the assembly. Representative Alida Trioni from MPP Tom Rakocevic's office had the honour of laying the wreath at the base of the Joseph Bannon statue. Amy Calderone of MP Sgro's office also laid a wreath and made some brief remarks. Vittorio Mazzucca lent his expert trumpet skills to the ceremony, playing The Last Post on his trumpet. Special thanks were given from those present to Rocco Di Giovanni, President of the North Islington Seniors Club as well as a group of clu Tony D'Aversab members who helped mark the day. Also present were board members Ralph Shepherd, local Tim Hortons owner and long-time member of the BIA, and, Marketing Chair of the Emery Village BIA. It was also wonderful to see our Emery Senior's Art Group in attendance, led by community cheerleader and instructor Lucy Catania.
The importance of Remembrance Day is that Canadians don't just honour our fallen soldiers but also the ones who are still serving and their families. But time is taking its toll.
Sandra Farina, Executive Director of the Emery Village BIA, expressed gratitude for the community turnout. She thanks everyone in attendance for sharing such a meaningful moment remembering those who gave their lives and continue to serve in uniform, including the Canadian Forces and Police Services. The BIA looks forward to hosting everyone again.
Joseph Bannon Park is dedicated to the memory of one of Emery Village's community champions. Born in Scotland in 1919, Joseph Bannon enlisted with the Royal Canadian Air Force and in 1944 was part of the invading Canadian Forces that landed at Juno Beach on D-Day. Bannon's descendants continue to attend every Nov. 11 to help honour their father and local hero.