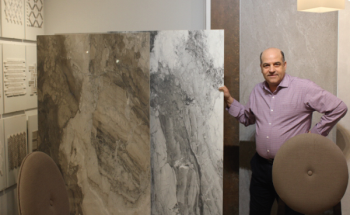 By Sean Delaney
The Emery Village Voice spoke with Solé Ceramic Tile owner Charlie Adamo to ask about his business and his love for Emery Village.
EVV: So Charlie, tell us about the business?
CA: Solé Ceramic has been around since 1976. It was a family business and we've carried that on. We've now been in the same location for 40 years.
EVV: What can people expect when they come through the doors?
CA: We import and distribute residentially and commercially ceramic porcelain and some marble from different parts of the world – Italy, Spain, Dubai, Brazil, China and others. We're a large showroom, we have about 6,000 square feet. We cater to medium to high-end, and do some prestigious projects, very high end residential projects and some fairly large commercial projects.
EVV: Any popular trends in the business that you're seeing today?
CA: We see all kinds of sizes, shapes and finishes. From rough and matte to semi-polished, polished. The going trend today is large tiles, as big as five feet by 10 feet.
EVV: For what mainly, bathrooms? kitchens?
CA: No rhyme or reason, it's whatever the customer chooses. We're doing very large areas with small tiles, very small areas with large tiles. Large format seems to be the trend.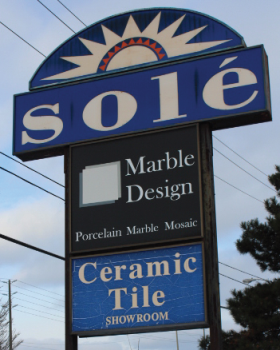 EVV: Is the renovation market still strong?
CA: The renovation market has always been strong, and now it's even stronger because the new homes market has lagged a bit. The renovation market boomed a little bit in the last year. We work with many contractors, and have a lot of contractors that buy from us. And we do recommendations if needed. We don't do installations ourselves so we do recommend highly qualified contractors for jobs. Tiles are getting very complicated today. Besides being large format, you need different types of tools these days and a lot of expertise. It's not like 30 years ago where you can do a job with a few little hand tools.
EVV: Why has Emery been home for 40 years?
CA: For us, Emery has always worked because it's near all the highways and the traffic level is just getting better and better. Being right on Steeles is a major corridor and an advantage for us. A lot of competitors of ours have moved but I don't think anywhere else has the same impact as this area.
You can find Solé Ceramic at:
5265 Steeles Avenue W, Toronto.
Call them at: 416-745-7800