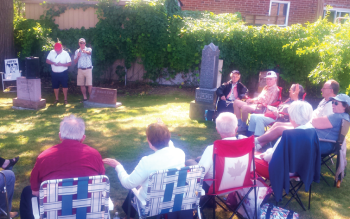 By Tim Lambrinos
In the last Sunday of August, decendents of pioneer families from Humber Summit and Emery meet in the local cemetery on Islington Avenue to reflect upon the remarkable stories of their ancestors.
The meeting in the cemetery is reminiscent of an extended family picnic. The event is complete with folding chairs, sound equipment, microphones, display boards and a lot of socializing.
At this year's annual event held on Aug. 25, several people who are now into their nineties made appearances.
The Pine Ridge Cemetery is located on the northwest corner of Rowntree Mills Road and Islington Avenue.
The land was initially deeded for cemetery usage by Joseph Rowntree in 1848. Rowntree made a stipulation in his will that a board of trustees would oversee the operations of the cemetery, after his death.
The board is currently comprised of Rick Jackson, Glenn McClure, Kirby Shaw, Don Rowntree, Faye Smith, Marion Rowntree-Russell, Geza Gaspardy and John Devins.
This year, Faye (Devins) Smith served as master of ceremonies.
To lighten things up, she held a make-shift game of Jeopardy for the crowd, complete with multiple-choice quizzes. The game utilized the memories of former residents of the once rural community.
Her dedication in researching the history of the Watsons and Parsons families was greatly appreciated by all. These families were one of the earliest settlers that began pioneering in Emery.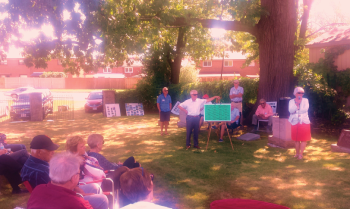 A roll call was taken where descendants from Rowntree, Devins, McClure, Gaspardy, Evans and Lauder were present. Lorne Lauder, who grew up in a farmhouse on the southwest corner of Weston Road and Steeles, made a noticeable appearance at this year's event.
Dr. Laurence Hutchman was also on hand and read aloud a few verses from his new book entitled, "The House of Shifting Time."
Dr. Hutchman has written several books of poetry about his life growing up in Emery in the late 1950's and 1960's.
Both Hutchman and Marion Rowntree-Russell were presented with tokens of appreciation from the Emery Village BIA for helping keep the community's history alive.
Marion said afterward that it was her first baseball cap that she has ever owned. Overall, the day proved to be refreshing and enlightening for everyone.
Reflections of the past seem to generate a clearer path of where we're from and where we all might be going, someday.