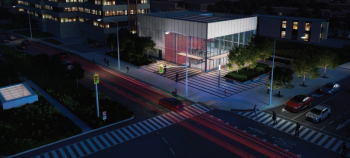 Finch West LRT Construction is coming to northwest Toronto
Starting in in spring 2019, residents will start to see more construction activities along Finch Avenue West for the LRT line.
Mosaic Transit Group, the contractor selected by Metrolinx and Infrastructure Ontario, is working hard to deliver a new transit system to northwest Toronto, while managing access and minimizing impacts on and around Finch Avenue West.
Since the start of the year, work crews have been busy doing preparatory works, such as testing soil quality and condition along the corridor. Over the next few weeks, the crews will set up site offices at the maintenance and storage facility, located on Finch Avenue West between York Gate Boulevard and Norfinch Drive.
Later, they will begin to clear the site, install an access road and install fencing around the site perimeter to make way for construction. At the same time, similar works will take place at the site of the new Finch West LRT station on Finch Avenue at Keele Street, Highway 400 bridge, Humber College and Highway 27.
When completed in 2023, the Finch West LRT line will have 18 stops along an 11-kilometre line, connecting to the Finch West subway and Humber College.
If you would like to see more complete information, residents have several ways to receive updates about the Finch West LRT progress and contact Metrolinx with questions:
Email: finchwest@metrolinx.com
Social Media: Twitter, Instagram and Facebook @FinchWestLRT
Website: http://www.metrolinx.com/en/greaterregion/projects/finchwest-lrt.aspx
Phone: 416-202-6500
Notices will also be delivered to your door.
The community office is at 2540 Finch Ave. W., Toronto with hours of operation Monday, Wednesday and Friday, 9 a.m. to 5 p.m. and Tuesday and Thursday by appointment.