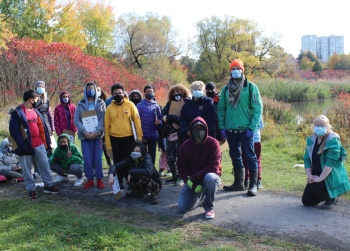 By Sean Delaney
The coronavirus pandemic is keeping everyone focused on social distancing, public health protocols and personal safety. And for many, that means a tendency to remain indoors instead of out. But education must continue. During these times, the Outdoor Education Department of the Toronto District School Board (TDSB) is thinking outside of the box and doing what they can to continue to bring crucial environmental education to Emery students.
"Obviously, all of our sites are closed," said TDSB Outdoor Education Specialist Michelle Blackie. "So right now, instead of kids visiting our sites, we are going to the schools and coming to them."
Blackie was at Craggs Pond with Grade 7 students from Gulfstream Public School on October 20, doing work examining outdoor ecosystems. Joining her and the students were local nature columnist and resident Edith George along with TDSB Trustee Christopher Mammoliti.
The Outdoor Education Department of the TDSB typically operates this type of education at nine different outdoor education sites they maintain, Blackie explained. But with the coronavirus pandemic continuing to restrict these types of endeavours, Blackie said they shifted their focus and began planning ways to continue engaging with students.
"We wanted to bring students into the natural environment. So right now, we're going to schools and trying to get students outside to introduce them to natural and built environments in safe spaces."
The classes followed safe distancing practices and other health protocols. Even through small groups of masked faces, it was easy to see a renewed enthusiasm from the students typically restricted to buildings and screens during the pandemic battle.
"Today we are looking at an aquatic ecosystem as well as terrestrial ecosystem, so they're exploring macro-invertebrates they find in the pond and looking for a variety of living and non-living things in the forest ecosystem," Blackie explained. "They're looking for invasive species, different berries and the interactions between various species."
The green space chosen in Emery was the ideal location for this type of work, the leadership of the group said. George has lived in the area since 1960 and said she always knew there were spaces in the village that could accommodate knowledge thirsty students.
"I've always known that the area where the Carmine Stefano Community Centre and the back of it is, was ideal," George said. "And because of COVID-19, it allowed me to work with my TDSB trustee and see if the local public school would bite and get the kids out. I just do not want kids sitting in front of computers all the time. And this is an area that can be used all year round for outdoor education. I'm absolutely thrilled, and you can see it on their faces when they discover something. They're just so excited. This was the right thing to do."
Mammoliti joined the group for their outdoor day. He said typical contact forums see trustees interact with parents, but to have an opportunity to engage with students allowed him to see education from their perspective and learn about their goals, needs and desires.
"These are the things that we're asking them to learn from, so I think it's important that we're there, we're active and that they see us and know us. I think it helps encourage learning, but also it allows students to engage with us and for us to be part of their environment. It's important that we are always open and listening with them so that we can act on what the youth are looking for as well."
On October 20, the looking was dominated by small groups of students with white buckets exploring the species they could find among nature. But more importantly, it was overwhelmed by the smiles and enthusiasm that comes with being outside, being active, and having fun.