It was the evening of July 5. Maria and her husband looked up at the sky warily. July had been wet. June had been cool. It just seemed to rain and rain and rain. But, tonight, there seemed to be a break. Later, the rain had just stopped.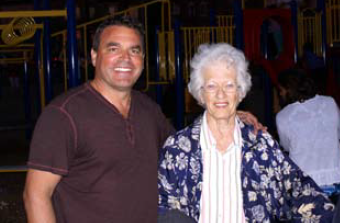 With the grass was still wet, Maria looked at her husband and then decided to take the kids and venture out to the movie in the park night at Joseph Bannon Park for a viewing of Madagascar 3. More than 700 friends and family members gathered under the stars for what old-timers might recall as a drive-in style atmosphere. No cars here though. No teen-in-auto romances either - just good, clean, family fun – and no rain! With snacks flowing from the concession booth and so many people up under the inflatable big screen it seemed to be a magical night where everything came together too. Sandra Farina, the Emery Village BIA Director who organized it all could be caught looking skyward occasionally hoping that the good evening weather would hold and that the weather gods would continue to be kind. "It's so great to see so many come out despite the uncertain weather" she said, happy and relieved to see the volume of the turn-out.
So, with the community braving the weather for one evening in July, would they do so again? Would the weather gods make the Emery Village BIA pay on a second occasion? Sandra Farina, with encouragement from Councillor Giorgio Mammoliti decided to try being "twice lucky". On August 9, they scheduled another movie night.
The crowds started trickling in again to Joseph Bannon Park filling it up. The children's splash pad got some early attention from families in the late day sun. When it darkened, the lights flickered on the big, inflatable screen once again and family film The Croods shone to life for all to see. Long-time community resident Lee Jackson stopped first to get a picture with Councillor Mammoliti. "It's a special night." she said.