By Sean Delaney
Literally!
Thanks to a unique method of construction known as bridge jacking, restoration and reconstruction work on the Humber River Bridge continues to take place right under the wheels of thousands of vehicles that traverse it every day.
Bridge jacking is a process that ensures the structural integrity of a bridge remains in place as work is in progress. In the case of the Humber River Bridge, the key architectural components of its concrete girders were lifted incrementally, as teams refurbish each one.
Teams lifted the bridge using 18 hydraulic jacks, controlled by hydro pressure and electricity from nearby control panels. These super-powerful jacks move at the same time and speed to safely lift hundreds of tons of concrete, steel and moving vehicles simultaneously. In total, 60 girders will be jacked up during the bridge's refurbishment.
By taking the weight off the bridge's structure, repairs can be made at an impressive clip.
For the Humber River Bridge, all bearings will be replaced quickly, because of the use of the bridge jacking technique. A bridge bearing carries the loads or movement of the bridge in vertical and horizontal directions from the bridge's superstructure and transfers those loads to the bridge's pier and abutments. While the bridge is jacked up, these bearings are replaced with new rubber pads impregnated with metal for reinforced strength and endurance.
How high is the bridge lifted to complete this work?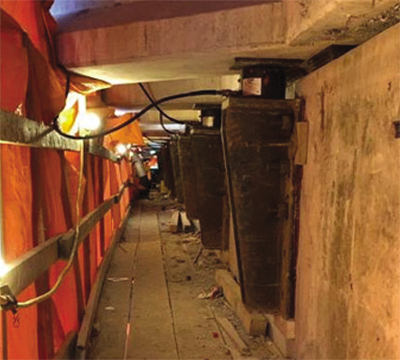 "We are only lifting the bridge six mm," said Tommy Medeiros Superintendent, Construction, Civil and Utilities. "That is what most people don't know and can't even see. When people hear that a bridge is being raised, they usually think it's much higher, but this is more like trying to slide a piece of paper under a laptop."
Medeiros said his team is using a type of jack known as a pedestal jack. The pedestals are mounted on the face of the abutments and then they jack the bridge up on girders. The team began the process in mid-January and are scheduled for completion at the end of March.
A challenge the team faced throughout this process was getting access to the spaces where it was necessary to install heavy machinery, as they are working over a waterway and deep slopes. Heavy equipment had to be carried down embankments carefully and the team had to ensure the ground could support large machinery to be set up in the right places.
Once the team had all the machinery in place, two large control units were set up, which control 18 jacks between the two of them – nine each.
There is an incredible amount of planning involved in this process. "Each section lift requires one-to-two weeks of planning," Medeiros said. "The execution does not take all that long to perform, but planning for every conceivable contingency, including ensuring team and public safety, takes a lot of preparation."
This planning includes ensuring all environmental procedures are in place, as working over a waterway presents many challenges. Mosaic secured clearance for working over a navigable waterway through the Navigable Waters Act from the federal government.
Erosion and sedimentary control mitigation measures are also installed near all approaches to prevent sediment from entering the Humber River. The bridge's entire underside is cupped with secured scaffolding that is fully floored, which doubles as extra security for teams working on the scaffolding, as well as a mechanism to catch any debris.
If you are one of the thousands of people who travel over the Humber River Bridge at Islington Avenue and Finch Avenue West, use of this innovative technique means that you did not have to take a detour. The Finch West community depends on this bridge to get them home, to school, the office or their favourite local shops and restaurants every day. Once work is complete, the public will have a stronger and wider refurbished structure to rely on whenever they need to make the crossing.