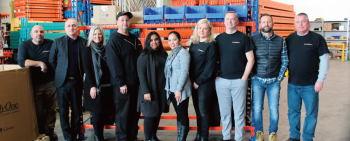 By Sean Delaney
It's the unsung hero of the warehouse industry. The walls are up, the girders in place, the space ready for stock. So now, who do you call to figure out where to put everything?
Enter Gerry Harte and Michael Wigle, co-owners of, Rack-King.ca
"Gerry and I have been in this storage material handling space for about 25 years. We worked at a company together a long time ago and in about 2002, got into the business for ourselves. We worked as a two-person show for about five to six years, and kept growing from there."
In about 2010, they started getting some big significant companies like the General Motors or the Loblaws of the world, Wigle said. And in about 2016 purchased the company known as 'Rack-King' at the time. Then they were servicing everything from small amounts of storage and handling equipment for light manufacturing, individuals that own their own shops and run shops to multi-million square foot warehouse and distribution centres.
They generally work with a company, look at what they're doing, examine all the information and data that can be gathered, and then analyze it to develop ways to maximize their productivity of what's being done.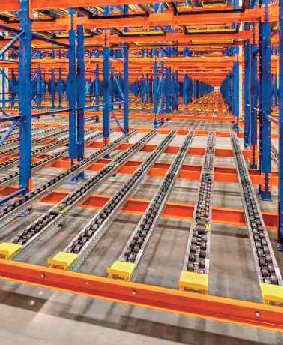 "We maximize the space so the client has something that effectively uses the space that they have to give them the greatest return on their capital.
"It's evolved over the last 30 years. All of the equipment capable of lifting packets and products, racking keeps getting higher and higher. If you're looking to build on a piece of land now, you're looking to, you're wanting to build high as possible," Wigle said. "So, we're getting into a lot of projects that the racking is more of an integrated component of the building, and sometimes even part of the structure of a building."
Wigle said they have buildings that go more than 40-45 feet, all supported by racking.
"A common scenario for us is someone is growing, expanding, moving into a new situation, and when they go, they want to bring the value of what they have, and what they're purchasing. So, that's what we do. We'll re-engineer them and have an engineer look at it and design it accordingly. Quite often, we run into a client who says, we want to do this, but we only have so much space to do it in. But, that's what we do, we love that challenge."
The company keeps a significant stock of items generally needed in the warehouse business, including, safety barriers, pedestrian barriers, lights, ladders, safety signage, and more. They are a one-stop-shop for light manufacturing up to millions of square foot warehouse businesses.
Address 366 Signet Dr. Toronto
416-749-4987
www.rack-king.ca