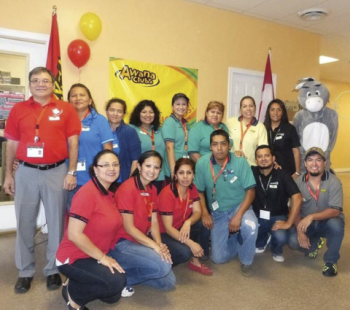 By Pastor Jon Sarpong
Are you looking for a safe and entertaining environment for your children this spring? Perhaps your family should plan a visit to Iglesia Cristo Viene (ICV), a bilingual Spanish church located at 68 Milvan Drive.
Starting in May 2015, ICV will launch its partnership with Awana Clubs International. Awana Clubs was formed more than 60 years ago in Chicago, Illinois, by Art Rohiem and Lance 'Doc" Latham. It is an international Bible-centered children and youth ministry providing weekly clubs and programs for three-year-olds through high schoolers.
"Our AWANA ministry is a key component of our Kids ministry. On Friday nights from May through September "clubbers" spend two hours learning Bible stories, memorizing scripture, and playing highly structured, high-energy games. It is a bilingual Spanish-English event," said Pastor Armando Monico, Youth Pastor at ICV.
Awana Clubs are an exciting opportunity for children to benefit spiritually, mentally, physically and emotionally from each weekly meeting. The clubs offer a positive, loving atmosphere where children can develop social skills such as sharing, listening and relating to others. Through achievement and awards, children will gain a sense of accomplishment that leads to future successes in all areas of life.
"Our weekly meetings have three components: council time, handbook time, and game time. Council time, includes opening ceremonies, music, announcements and a Bible lesson. Handbook time emphasizes individual contact between clubbers and leaders. Leaders meet with a small group of clubbers to listen to them recite their memory work and to encourage them to greater participation and handbook achievements. Clubbers earn handbook awards during this part of the meeting. Game time teaches fair play and teamwork while providing a release for stored-up energy," says Pastor Monico.
The AWANA program is open to the entire community and greatly benefits all children involved. The visitor friendly atmosphere, fun team building games, engaging worship, one on one time with class leaders, and weekly lessons provide opportunities for community engagement that connects young people.
"Studies have shown that AWANA alumni have a high percentage of formed discipline including positive social habits, excellent memory and biblical foundations. We are really looking forward to the 2015 session and we invite anyone who is interested to contact us to register for this spring. If you'd like more information the 2015 Awana Clubs International takes place at Iglesia Cristo Viene.
Please call (416) 740-8986.