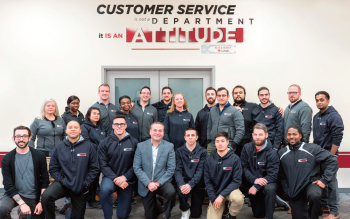 By Sean Delaney
Seal & Design Canada was formed in 1974. It actually began with a partnership that didn't work out, but when the two partners split., opportunity knocked.
Prior to the partnership falling apart however, the original vision was to be the supplier of all seals to the local community, with a focus on maintenance and heavy inventory.
"Somewhere you could come and buy one o-ring, five o-rings, whatever was needed, and so we were 22,000 skews, and a large inventory," said president David Childs.
A commitment to doing more than buying and reselling grew as the original partners kids came on board, and so some machines were bought so the company could produce some gaskets. However, Childs explained, along the way what the kids began to learn was that sticking to the commitment of remaining a family organization was limiting the company.
The partnership was explored, and then, the owners decided it was best for them to sell.
"I happened to be in the business of helping people buy and sell businesses at that time, so I met them and helped broker the deal," Childs said.
That was the beginning of becoming two groups, he said. The company continues to have their counter, and they continue to have those 22,000 skews, and massive selection of products.
"We continue to supply people at the counter for 25 bucks if that's what they want," Childs said. "But a big part of business now is for larger runs for Magna Auto Systems and Husky Injection Molding Systems and other big companies. We're into aerospace, automotive, pharmaceutical, and we're able in those applications to sell what we know instead of just what we have."
Now, customers can provide drawings of what they need, and they can execute on that drawing.
And they manufacture right in Emery when they need to. For small runs, a couple hundred gaskets or so for example, they will produce them in house. But a bigger run will see them manufacture in New York, China and overseas.
"If it's gaskets, seals and sealing solutions, give us your need and we'll solve it for you," Childs said.
From EMI shielding products, sealing solutions, o-rings, non-asebestos materials, rubber sealing devices and more, they have their customers covered.
"Where we really shine is if we can get with a customer, we can solve their individual needs. If we can get into a shop being run by our competitors and get them to buy into the fact that we have the knowledge we do, we can show them how we can offer a better product and better solution," Childs said.
And their service focus and sales expertise is unique in the industry. They are a firm believer in employee retention, and growing their employees into experts.
Instead of being put off to a procurement department or some other voice, our customers are speaking to one voice who is not just selling them a product, but understands their applications and can offer real solutions."
Seal & Design Canada can be found at 5533 Steeles Ave W #11.
You can reach them at: (416) 741-7005
Or visit them online at: sealanddesign.ca