By Sean Delaney
Domenic's Quality Meats is a business built on the reputation of its owner. And that reputation is built on experience money just can't buy.
"My dad has always been in the meat business," said Sara Abbattista, daughter of founder Domenic Abbattista. "It's essentially what he knows because of his knowledge; we're talking about going back to the old country in Italy."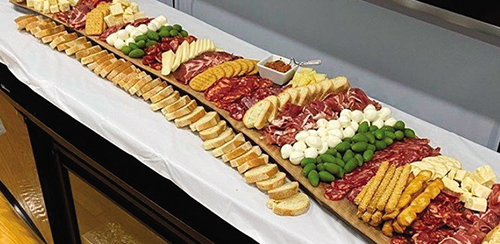 Domenic's father sold livestock. And before technology, a livestock expert would have an exceptional understanding just looking at an animal, she explained. One examination could lead to them knowing if an animal was too young, too old, or just not in the proper shape for selling.
"And that's where his knowledge in butchering and meat has come from," she said. "He can tell by looking at the bones how old an animal was."
When Domenic came to Canada, Sara explained, there was a shortage of butchers and his skills were immediately in high demand.
"At a certain point, he just felt, I'm going to open my own shop," she said. And now, in one iteration or another, Domenic's has been in the retail business for more than 20 years. Today, he's a staple in the community. Everyone knows Domenic, Sara said.
And the business has evolved with the times and the changing demands of the consumer. She said it began "simply."
Customers would buy in bulk, half a cow, that sort of thing, and split it among families with very little processing going on.
Today, that has changed. Domenic's is preparing much more of its fare. If a customer wants to buy a veal cutlet, they can get them individually and breaded. The same with chicken cutlets. If they buy a roast, now they can instruct on how they want it seasoned, and Domenic's will season it, tie it, wrap it and have it ready for purchase.
"Now, we see bacon-wrapped filet mignon, chicken filled with cheese and prosciutto, ham, and asparagus," Sara said. "A lot more items people are moving toward, so they can just go home and cook."
And Domenic's sells more variety these days, including specialty cheeses, imported grocery products from Italy, and more.
"One thing my father doesn't do is buy off meat wholesalers who will deliver packaged meats," Sara said. "He will still buy from a farmer who sells the animal, the livestock, so he's really buying and picking the animal. It's a little bit different, but it's what makes him unique and keeps his product at the quality it is. If he doesn't like what he sees, he sends it back."
Domenic's Quality Meats can be found at, 2965 Islington Ave.
You can reach them by phone at: (416) 743-2883
Or find them on Facebook at: www.facebook.com/dqmeats