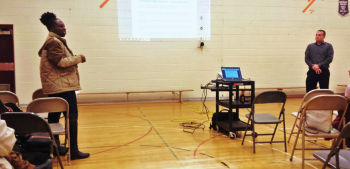 By Tim Lambrinos
Christopher Mammoliti has a surname that is undoubtedly recognizable in this local community.
An intense desire appears evident as he strives to make legitimate efforts to understand the individual needs of all Emery's local neighbourhoods. Whether he's participating at local community events or filing motions at the Toronto District School Board (TDSB), he continues to provide quality representation for those that often are the most in need.
Some of his personal qualities may appear familiar and recognizable to many.
Of course, it's his surname that is well known in political circles, but Christopher Mammoliti insists that he's his own man. His attitude and personality appear to be completely individual. His ability to get to the core issues of society, as a whole, has allowed him to be sympathetic to those being impacted. And with this growing development of personal qualities, he says he's very proud to maintain guiding core principles of integrity, respect and empathy.
On October 22, 2018, he was elected school trustee on his first attempt at public office. He began representing the needs of students in Toronto District, Ward 4. The schools in Emery that he directly oversees as Trustee are: Daystrom Public School, Gulfstream Public School, Gracedale Public School, Humber Summit Middle School, Emery EdVance School, Emery Adult Learning Centre and Emery Collegiate Institute.
Sharon Grant of the Parent Involvement Advisory Committee (PIAC) has said that his on-the-job progress, thus far, has been impressive. She is pleased that the Trustee has delivered on previous commitments and that his work continues to be reputable.
"He's amazing, approachable and dedicated. Parents and kids love and appreciate him," she said.
On the job, Mammoliti is required to deliver on a mandate with two appointed superintendents in order to make changes and obtain results in the community's public education system. His responsibilities, as Trustee, allots him powers that have been somewhat retracted to pertain only to matters of policy. However, he continues to apply himself.
One of the more recent local initiatives that Mammoliti has been successful in spearheading was a planting of new trees at Rowntree Mills Park. It's the first time in 25 years this has been done.
"Our parents, guardians and community members must realize the critical importance of their involvement in our public education system. We must utilize our collective voices together and grow our community engagement, in the best interests of our students' youth and future," he said.
He said he is on a mission to understand the real needs of Emery's communities, from the ground up, and this is the format that he wants to continue to stand by. Time will tell whether his individual pursuits and commitments will continue being reputable.
If you have any suggestions or concerns with the public school portion of the educational programs for the Toronto District School Board in the area, please call his office at (416) 395-8787.