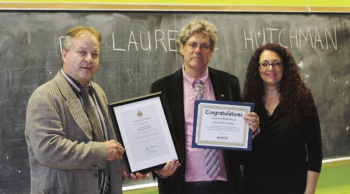 By Sean Delaney
On June 6, Laurence Hutchman conducted a poetry reading session at the Carmine Stefano Community Centre. About 40 people attended for the 7 p.m. start time.
Hutchman has now written two books of poetry about Emery. The most recent, Two Maps of Emery, is presently printing a second edition.
It was a superb evening of the arts, amazingly self-absorbing and a night full of warm reflections of earlier life in our community.
Hutchman read passages from his new book to the crowd. He reminisced with the attendees, mostly about his childhood years in and around Emery. This followed with fielding questions from a very enthusiastic audience. Well-known resident of Humber Summit's farming community, 81 year old Marion Rowntree Russell, made a surprise appearance and happily fielded her own questions from bystanders. She spoke about the lives of residents of Emery and Humber Summit when the area was still farmland.
Also in attendance on the evening was Hutchman's 1960's history teacher from Emery Collegiate, John Laflair. He attended the night along with his wife.
Dr. Laurence Hutchman received the high honour of the evening, acclaimed as Poet Laureate of Emery. The office of Councillor Giorgio Mammoliti presented Hutchman with an official plaque from the city.
Sandra Farina, Executive Director of the BIA, also presented Hutchman with an official scroll from the BIA. The Emery BIA is unquestionably differentiated from other BIA's by having a Poet Laureate who represents our own local community. If you are interested to purchase your own copy of Two Maps of Emery, please contact the BIA office at (416) 744-7242.