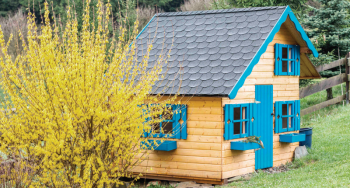 By Ron Lazzer
What kind of improvements to your home will give you the greatest impact? A sunroom? A larger kitchen? An extra room? While all those may increase the value of your home or give you some added comfort nothing will create more joy for the whole family than a backyard playhouse. Take advantage of the colder weather we've been having lately to gather your family and brainstorm some creative designs that will create more living space with loads of fun for the kids. Here are three things to consider:
Height
Your first thought may be to build a playhouse on the ground as a smaller version of a real home. This is a great idea because you won't have to worry about anyone falling out. However, if you want something a little more exciting for the kids try a playhouse raised about four or five feet above the ground. The little ones will be close to your natural height and you won't have to stoop down to see them. Also, this creates a wonderful opportunity to design a fun way out by putting in a slide. Your children will love climbing up the ladder and sliding out.
Location
This is very important. The most common placement is in a spot out of view of the street. You also need to consider how you will be using your backyard. Placing the new home out of the way of walkways and high traffic areas is thoughtful so that kids can play undisturbed. Finally, make sure you can see the playhouse from as many of your inside windows as you can so you can keep an eye on the rascals while you're inside. It's nice for them to have their own space but supervision is most important.
Design
This is where you can let your creativity go wild. Do you want something crazy and fun or something more straightforward? Do you want bright playful colours or more natural tones? Also, how will your kids use the space? You might want to create an indoor space where they can play sheltered from light rain or harsh sun. Imagine them playing board games or drawing on a miniature table inside the playhouse. You can also have a mini porch where they can sit and watch you garden or admire the local wildlife.
This is a super fun project you can share with the whole family. Everyone can design it together, Dad can build it, and Mom can help make it beautiful and comfortable. The kids can be involved at every stage too. Design it now while it's still cold and you'll be ready to start building when the warm weather hits us. Have it ready before the kids are out of school for the summer and you'll help them create memories that will last a lifetime. See you next month!
Ron Lazzer is the owner of Bellevue Landscaping. If you have any questions or comments please email them to Ron@BellevueLandscaping.ca