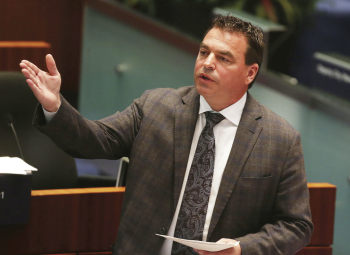 A position of power, earned with humility and hard work, the story of Giorgio Mammoliti
By Sean Delaney
He's been a Member of the provincial legislature at 28, a Toronto City Councillor (presently entering a 14th year there), chaired community development and affordable housing committees, and even the Toronto Zoo.
He's served (s) on the powerful executive committee of Toronto Mayor Rob Ford, and even briefly entertained a run at the big seat himself in 2010. His career really began when he rose to prominence as a young union executive, becoming the head of CUPE local 767 before getting into politics.
He is an outspoken conservative supporter of the Toronto taxpayer.
He is a champion of polarizing visions for his ward, and for the city.
Like most in the public eye, he is understood and misunderstood, and has a fascinating tale to tell about how he rose to prominence in the largest municipal arena our country has to offer.
"It all started with a pair of work boots," Mammoliti said.
His family moved to the Emery Village area when he was three years old. He can still remember it. His father driving north, until Jane Street became a dirt road. It was 1963. The area was still predominantly white Anglo-Saxon, and little Giorgio Mammoliti would grow up the minority in his neighbourhood. But he's all the better for it, if you ask him.
"You had to put up with some insults, being one of the first Italian families to venture into their lives, you know, the smell of garlic, the pronunciations etc. But all my best friends growing up were white Anglo-Saxons, and it was fantastic."
He credits his multi-cultural upbringing with giving him the forward thinking views he espouses today on development, immigration and city building.
"There were very special moments being that way too, it introduced us to Canada, and what Canadians were and who they were."
And it formed some of his views on his home today. Mammoliti loves the amount of culture his ward displays – more than 110 languages are spoken in Ward 7 of the City of Toronto – but also wants people to come together as Canadian. It's a view he is passionate about.
"I've never agreed with the whole area of multiculturalism and the way it is spoken about," he said. "To me, multiculturalism in its entirety has kept cultural groups only amongst themselves."
Even he, went from Giorgio to George, and then back again legally in 2002.
"My kindergarten teacher said to me, we're naming you George, because it was the Anglicized version of my name, so everything about us became Anglicized."
And he didn't fight it, he said. His family learned from their neighbours, and their neighbours learned from his family, but together, they formed a neighbourhood in Canada, and did not put up walls to each other because they were different.
But Mammoliti would have to scale his own walls.
His parents struggled to pay the bills, and would work during the day and educate himself at night if he wanted to pursue post-secondary education. Seven years of night school and he earned himself an honours education from Humber College in labour relations with a focus on media. One of the clichés in life, however, is that we learn more at work than we do at school.
And that big epiphany of Mammoliti's came on his first day on the job at the Ministry of Housing.
"It was a pair of shoes, a pair of work boots," he said, after being asked how he got his start in politics. "I was 19, and it was my first day. The shop steward asked me where my work boots are, and I didn't even know I needed them, no one had told me."
A brief conversation with his supervisor, and he was informed he had a right to boots. Within 24 hours, he was delivered a brand new pair of boots.
"I was very impressed with that whole dynamic," he said. "A shop steward invited me to a union meeting, and a cousin of mine, because the steward was actually retiring, nominated me. I didn't even know what a shop steward was, but quickly, I didn't care. I knew I could make a difference."
He became the president of the union at 23, and negotiated three collective agreements before the age of 28. A successful run at an MPP seat was next, but disillusioned with his first party affiliation, the New Democratic Party, he didn't find his forte at the provincial level.
"I'm conservative thinking, I know that now, but I do my best work for a community without a party breathing down my throat. I enjoy the independence of acting without a party that comes being a City Councillor. I simply love what I do."