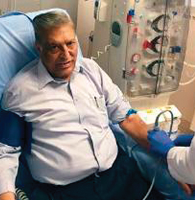 Dialysis update
We have a great friend in Emery Village that visits the Humber River Hospital dialysis floor three times per week. This can be very time consuming between taking Wheel Trans and the time it takes for a dialysis session – perhaps eight hours at a time for the round trip.
I hear through our wonderful friend named Lee, that all the staff in the department are so attentive and caring to all. That's great to hear. A big shout out to all the dialysis staff at Humber River Hospital.
SonoSite Ultrasound and ear bud project
Thanks to a generous donation from Linda Tyrrell in memory of her husband Jack, HRH recently added three SonoSite Ultrasound machines to its department. This special equipment helps nurses see deep veins and arteries in the arms and legs, which assists with inserting needles that are needed for dialysis. This is especially important to patients, but also for the Home Hemodialysis patients. In fact, the late Jack Tyrrell participated in the home dialysis program under the watchful eye of Dr. Andreas Pierratos, making this donation all that more special.
At any given time, there could be more than 100 patients in the Dialysis Unit receiving their treatment. Each patient has access to their own units to watch movies or TV shows, plus many use their four-hour stay at the hospital to phone friends or relatives. It can get quite noisy in the unit, which is disruptive to patients who want to rest, but thanks to The Mickey Fienberg Fund, every patient now has earbuds that are used to enjoy their media of choice. Patients who use hearing aids are provided with over-the-ear headphones. Today, the unit is quiet and peaceful, except for the occasional laugh of someone watching their favourite TV show.