Great news for Emery business
Announcing the Canada Emergency Business Account
The Federal Government has announced a significant change to the original Canada Emergency Business Account (CEBA) terms, allowing for an additional year before repayment is due. This is terrific news for many Emery businesses that may have been struggling to stay afloat during the past period of pandemic uncertainties.
Initially, the CEBA loans were to come due this coming Dec. 31, 2022 for businesses to receive partial forgiveness. The new deadline is now December 31, 2023. This will be welcome news, as many local companies have expressed concerns about the 2022 deadline.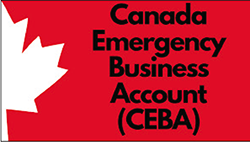 Businesses should receive a notification from their bank about this deadline extension. If you don't hear from your issuing institution, reach out and confirm with the bank without delay.
Program Repayment Deadlines Have Changed - CEBA loans require that the outstanding balance (other than the amount available to be forgiven) be repaid on or before December 31, 2022, to be eligible for partial loan forgiveness. The Government of Canada has announced December 31, 2022, the forgiveness repayment date will be extended to December 31, 2023, for eligible CEBA loan holders in good standing. If you qualify for the new extended term, you will be contacted with details regarding the new repayment date.