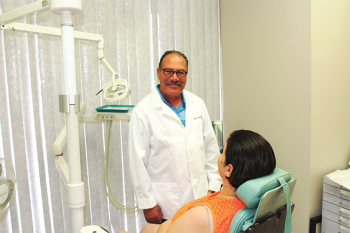 You're one stop shop for all your denture needs
By Sean Delaney
We all want pearly whites.
But maintaining those teeth from birth to our experienced years, means more maintenance and checkups then one might expect. And often replacement teeth, in the form of dentures.
Aging and lifestyle can also lead to a need for implants, custom dentures and more. Lifestyle and food choices can lead some to seek out cosmetic solutions such as whitening, and of course, once we begin gnashing away, maintenance will be required.
So how about an experienced, one stop dentist locale where you can get all the services you need and from a practitioner and team you can trust?
Gabriel Ghazal is a clinic owner worth meeting.
He's a denturist and dental technologist who owns and operates his own clinics and laboratory at two locations .
"Because we own our own lab, we don't send work to the outside," Ghazal said.
And the level of experience will give customers a comfort in the staff they will be trusting their chompers with.
Gabriel has been in business for 30 years, including serving as president of the Association of Dental Technologist of Ontario for three years. He maintains two clinic locations in North York, with each being just 10 minutes away from the other.
The dentures and implants Ghazal features are the latest technology and affordable, he said. His locations also offer a full teeth cleaning service, with on staff dental hygienists. As well, the doctor is community oriented. Emery can be hard to get around, especially if you rely on transit or other modes of transportation, and so, Ghazal offers a house call service where he will bring his expertise to you.
"Usually a denture lasts for five years, as an example," Ghazal said. "Through those five years, wear and tear, eating habits, the denture, it will erode. The denture needs a constant tune up to keep it in shape."
As do our teeth.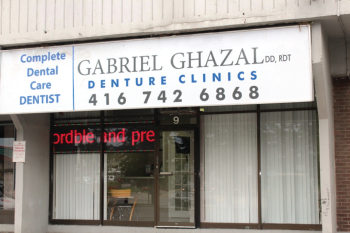 A personal trainer for your mouth, Ghazal and his staff will keep your teeth in tip, top shape.
Gabriel Ghazal clinics offer implant retained, personal precision and conventional dentures, as well as rebasing, relining and same day repairs. They also cast partial dentures, work with anti snoring devices, sports mouth guards and teeth whitening.
Customers can find the clinics at: 2397 Finch Ave. W, Unit 9, and 1 Whitehorse Rd. Unit 23.
For more information contact the Finch location at (416) 472-6868 or the Whitehorse Rd. clinic at (416) 398-6868, or email: info@ghazaldentures.com. To learn more about the clinics, Dr. Ghazal and his staff, and the services they offer, visit: ghazaldentures.com