Construction is progressing across the Finch West LRT corridor
----------------------------------------------------------------------
Humber College stop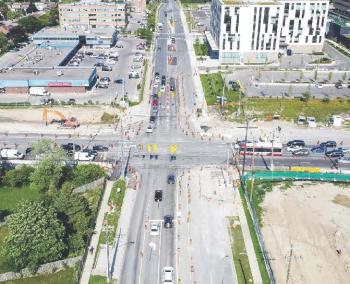 On Highway 27/At Finch Avenue West and Highway 27
The Finch West LRT line's western terminus is being constructed on the southwest corner of Highway 27 (Hwy 27) and Humber College Boulevard.
Through the summer, crews removed soil from the site to flatten the land to street level. The excess soils transported to the Finch West LRT's maintenance and storage facility (MSF) where it is reused to raise the grade of that site.
Crews are also widening Hwy 27 to make space for new water, sewer, and gas pipes as well as an open cut tunnel that will run from Finch Avenue West to Humber College Boulevard. The widening of the west side is complete, and now crews are working on the east side.
In late fall, the first of 600-plus steel piles will be installed along Hwy 27 to prepare deep foundations for the LRT's open cut tunnel and Humber College stop.
------------------------------------------------------------------
Highway 400 Bridge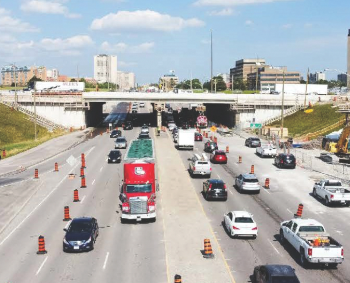 Over two full weekends in June, the Hwy 400 Bridge was replaced using an innovative time saving technology that reduced traffic disruptions from years to a couple of weekends. Crews demolished the old bridge decks, recycling the reclaimed steel and concrete. Crews are now focused on refacing the concrete columns and making final repairs to the structure.
Maintenance and Storage Facility (MSF).
The Finch West LRT's MSF site, located at 50 YorkGate Boulevard, is quickly taking shape. The main facility's structure grows higher above the construction fencing each week. Formwork and concrete pours are underway. Starting in the fall, crews will begin to install tracks for vehicle testing next year.
Preparing for surface stops and guideway.
As far as the eyes can see, Finch Avenue West is being widened in each direction from Tangiers Road to Hwy 27. Tree clearing, utility relocation, and traffic signals replacement are underway across the corridor. There is also borehole drilling and surveying work in some areas.
------------------------------------------------------------------
Finch West Station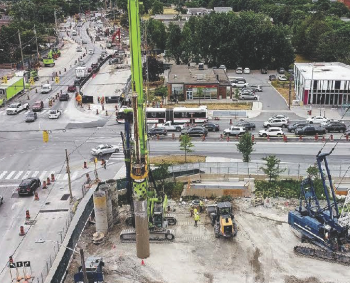 The eastern terminus on the LRT line is located at Finch Avenue West and Keele Street. To make way for the underground station, crews have been conducting major utility relocation work, including installing new storm sewer and water main pipes, new above and below ground power lines, and temporary traffic signals and relating and protecting existing telecommunication cables. Pile drilling to create a solid foundation for a pedestrian tunnel, portal, and Finch West station box continue into 2021.
Traffic lanes have been adjusted temporarily while crews install timber road decks in four areas around the intersection. Once the piling work is complete and the decks are in place, deep excavation can begin, which is expected to start in winter 2021. Lane reductions will remain in place through construction.
Learn more about piling on Finch Avenue West in the Piling Explainer video on our Facebook page at: www.facebook.com/FinchWestLightRialTransit/videos