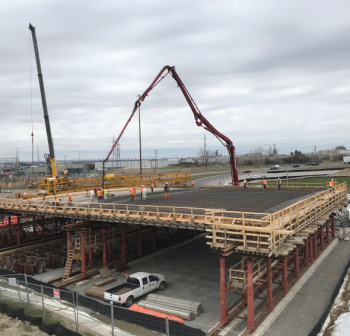 Major bridgework is always a huge deal. A project involving the Highway 400 crossing at Toronto's Finch Avenue, will cause some detours. But the disruption wasn't too significant, thanks to an engineering process that dramatically sped up the replacement.
Crews were in the final stages of a Highway 400 bridge replacement project as part of construction for the Finch West LRT.
Using a 'rapid bridge replacement' (RBR) method, the constructor Mosaic Transit Group had already done a significant amount of work to prepare for the job. In February, Mosaic received and placed the massive reinforced concrete girders to build the framework for the bridge decks. The girders were then hoisted in place on scaffolding that has been set up beside Highway 400. The real – and literal – heavy lifting will happen over two upcoming weekends in June, where these bridge decks will be moved into place on Highway 400 to form the new bridge spans. During the first weekend, Mosaic worked over 24 hours to lift the existing southbound bridge and replace it with the pre-constructed bridge deck.
The project had seen back-to-back weekends of road closures in the area of Highway 400 and Finch Avenue, but Metrolinx officials said it's happening at a rapid pace and will be done by the end of June.
"We're replacing the bridge deck, which had about ten years (of) life left and we're replacing it, so it has 75 years, and we can run our LRT underneath it," Metrolinx CEO Phil Verster said.
The LRT, which is expected to be completed in 2023, is set to run from Finch West Station to Humber College.