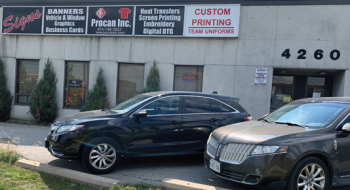 By Sean Delaney
Procan Inc. began printing in 1987.
And since then, have grown from a small private company into a printing corporation that has produced almost every brand a customer can think of.
"There is probably not a brand out there I haven't done," said Procan Inc. President Ravinder Setia. "We have done all sorts of brands."
Setia came to Canada in 1980. Just one year later he was already deep into the printing business. His company began by producing promotional orders for companies. When he picked up a large order for the SkyDome (now Rogers Centre) things began to pick up.
"We did all of their shirts," Setia said. "All of their souvenir shirts. We used to do printing for them day in and day out."
Today, he said, business is much the same, but a lot busier. As Procan grew, so too did the variety in the orders they received. They produce all kinds of "transfers" (or the process of transferring an image to a piece of promotional material). They will do transfers onto polyester, garments, cotton, and nylon and all according to their various customers needs.
Over the course of the past 28 years, Setia said they have changed with the times as well. Going digital has opened up their ability to produce images for customers, and since then, he said, they have seen no end of variety in their orders.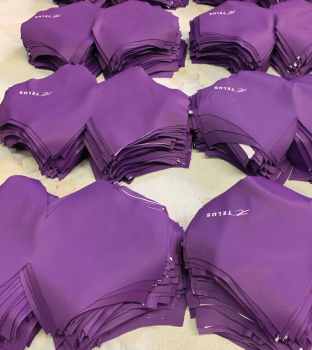 "All the work we do is for agencies," he said. "Agencies contact me for their customers, supply the designs they want, and that is where we see all sorts of brands."
And when they went digital, they added more lines, and transfers. Now, they are into the vehicle identification market as well as t-shirts. They do banners, signs and souvenirs, produce masks with corporate logos as identification and advertising, and can even produce large custom canvasses for customers.
And with their wealth of abilities, Procan even answered to the needs brought forth by the Coronavirus pandemic.
The company has many connections with sewers and other manufacturers. They began producing two types of Personal Protective Equipment (PPE) masks in-house, but as demand ramped up, Setia said he sent work out to those sewers and manufacturers as well.
"When COVID-19 started there was a requirement for masks, and not enough masks around, so we started to produce masks," he said. "We produce two types, polyester and cotton masks, and we also have three layer and two layer masks."
They have launched a second website to show off the available PPE equipment, as well as their souvenir t-shirts. You can find these products at: baddcompany.com
"My personal belief, understanding the scenarios that are out there now," Setia said. "Is that masks and face shields should be a norm in the food industry forever."
To find out more about Procan Inc. visit them online at: procaninc.com
Or via email at: custom@procaninc.com
They are located at: 4260 Weston Rd. Unit 2
And can be reached on the phone at: 416-748-0527