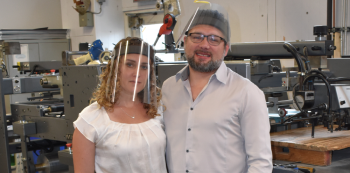 By Sean Delaney
Emery Village's Grove Tree Press has grown from a small family laminate business into a floor decal specialist, and the story is one of ingenuity and elbow grease said co-owner Mike Heggie. He's gone from a two-man operation in his father's garage to finding a niche that saved he and his wife's business from a pandemic that almost saw it fall apart.
"I started the business myself in my dad's garage in 1999, when I was about 20," Heggie said."We built the business up, which at the time was my dad's because we used his money to start, and it was a pretty good business doing finishing for printers."
Heggie explains that at the time, they were subcontractors for other printers. Printers would sell products, such as a shiny laminate seen on menus, but would not perform the specialty task in house. They would contract out a business like his to "finish" the product.
"Our customers were all printers.We did the lamination like you see on menus or maps, and business was pretty good. But it got top heavy with a large family," Heggie said.
With all six of his father's children, as well as several spouses involved in the business, Heggie said it was hard for him to facilitate the direction he wanted the it to take, so he chose to leave. Once the others involved left his father to his own devices however, he came back. But by that time, the business was operating on a 10 to 15-year-old business model.
"Basically, I inherited a losing business, but was going to turn it around." Heggie and his wife Christy are co-owners now, and in the last three years have turned consistent losses into their first break-even year this year.
"We've cut costs and introduced new products. One thing was floor decals, which was not a big seller up until now," Heggie said. With the coronavirus pandemic, their work to get into floor decals has now landed them large contracts with Starbucks and Costco, and sees Heggie and his wife seeing brighter days out of a situation that is harming most businesses.
"Floor decals were actually something we spent a lot of time on and maybe shouldn't have because it wasn't selling," he said."But now that COVID-19 has happened, yes, we're glad we did it."
As other businesses needed to start developing the proper warnings and guides for all of their customers throughout their retail locations, the Heggie's were all ready to go.
"I remember thinking about a book of success stories I had read about other people, and all of the success stories had a part where they got knocked down, and just got back up," Heggie said."So, we did that. We just kept getting back up."
Grove Tree Press has also scored their medical license to produce face shields, and are proud of a unique design they produce that allows the face shields to flip up.
"It's simple, but very useful," Heggie said, saying now if someone wants to perform a simple task, like drinking water, they don't have to take their mask off, potentially contaminate it, and then have to clean it again before wearing it again.
"People like it, and we're really happy we get to produce a product that helps."
If you are in need of floor decals, or face shields, reach out to Grove Tree Press. They can be found at: 78 Rivalda Road.
You can reach them at: 416-745-9000. Or, you can find them online at: www.grovetreepress.com