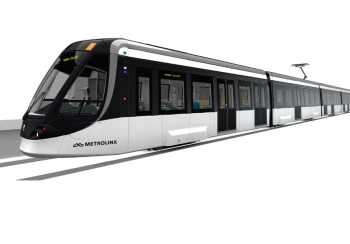 By Sean Delaney
It looks like it is about time to let our readers know about the new transit opportunity coming to Emery. The Emery Village Voice will give you much needed information as well as look at the LRP development from many different angles for the next few months.
The Finch West LRT is an 11-kilometre light rail transit line that will run along the surface of Finch Ave from the new TTC Finch West Subway Station at Keele St to Humber College. It will have 18 stops, including 16 surface stops, plus an underground interchange station at Finch West (connecting to the new Toronto-York-Spadina Subway Extension) and one below-grade terminal stop at Humber College. The project will cost approximately $1.2 billion, and is funded as part of the $8.4 billion commitment from the Province of Ontario to transit expansion in Toronto.
The Finch West LRT will operate in a dedicated lane in the centre of the roadway, separate from regular traffic. Alstom Canada will provide 18 LRVs (light rail vehicles). The vehicles will run every five minutes during peak hours and every seven to10 minutes during off-peak hours. Each vehicle will use the PRESTO proof-of-payment system and be fully accessible with stops for wheelchairs and strollers.
The new street scapes being built will be accessible for drivers, transit riders, cyclists, and pedestrians. It will provide rapid transit for the Jamestown, Rexdale and Black Creek neighbourhoods, providing vital connections between communities and support growth in Northwest Toronto. Transit connections to the TTC, GO, Miway, Viva, and Züm transit services at the Humber stop are included.
Currently, three bids are being evaluated as part of the RFP process and the announcement of the winner will be this spring 2018. The main construction will likely begin fall 2018, however enabling works by others (Enbridge and oil pipeline companies) will happen around Weston Rd and Signet Dr this spring and summer.
The project will be complete by 2022.
Once built, it will provide rapid transit to 46,000 passengers per weekday. Annual ridership is estimated to be 12 million passengers by 2031.