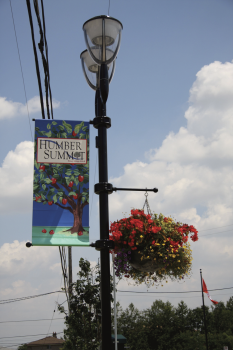 By Sean Delaney
I would like to give a shout out to the Emery Village BIA and the many great businesses that support the BIA and assist with the development and beautification of the Emery Village area.
Did you know that there are more than 300 hanging flower baskets installed and managed on a weekly basis with watering and nutrients? Forty large planter flower boxes, many that adorn the gateways and entrances to Emery. Nine stone seat wall features that supply astetics and seating for those taking public transit. This is a wonderful feature for our seniors that need a place to rest rather than standing in a transit shelter while waiting. Three gateway signs that include custom sidewalks and colourful roadway pattern brick. And eight roadway medians planted with beautiful flowers.
I'm reminded of two important results that occur from all of this work. Civic pride is abundant in Emery Village and can only increase as the area continues to grow and evolve. More importantly, crime tends to gravitate to areas that look unkept and become an eyesore. Statistics show that the better Emery looks, the less we seem to have crime.