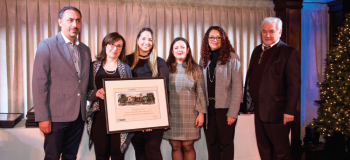 By Sean Delaney
On the evening of Dec. 4, the Toronto Association of Business Improvement Areas (TABIA) held their eighth annual TABIA Awards Night.
The evening is an opportunity to recognize and honour the unique and accomplished of Toronto's 82 BIAs for their efforts throughout the year.
Thirty-eight awards were handed out to deserving BIAs in 13 categories.
Congratulations can be given to the Emery Village BIA for winning the 2018 streetscape improvement award. The award recognized the group their work done on Islington Ave just south of Steeles.
The award follows the hard work and dedication the BIA continues to display to help make Emery Village an outstanding community in Toronto.