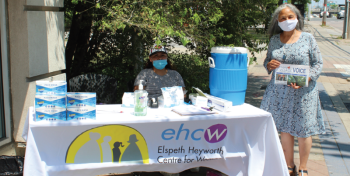 By Sean Delaney
The coronavirus pandemic of 2020 has caused some businesses to come to a grinding halt. But for some service organizations, it has meant a busier time and an increased focus on serving vulnerable populations that continue to grow in size while the pandemic limits the economy and community.
The Elspeth Hayworth Centre for Women opened in 1992. It is a non-profit charitable organization serving the area of Jane and Finch, Emery Village and Black Creek-Humber River. The core services of the centre are for newcomers and immigrants, to help them settle in their new home. And that means the majority of their clients are low income and facing increasing hardships during the pandemic.
Executive Director Sunder Singh said the Emery community has been "more than willing" to step up when asked, and as the Centre sees more and more demand for their services, they have had to communicate those needs to the community and continue to get overwhelmed by the reaction.
Like many businesses, Elspeth had to shut down due to the government regulations, but Singh said they immediately worked to ensure all staff members had laptops, phones and were in continual contact. Once their communication was in place, they began to reach out to the members of the community they knew would be in need.
"Our staff began to call all the seniors on our list on a daily basis, to connect with the seniors and ensure that connection remained," Singh said. "It was a wellness check to see how they were doing. And through that type of connection, we identified their urgent needs, those of some young mothers, seniors who were ill and could not get groceries and others."
Hayworth said staff began to take lists from seniors and drop off groceries for them. They put a call out to the community for anyone that could help with prepared meals and they immediately saw people who were making meals for their own families that made extra, froze it, and would donate it for families in need.
"We made contact immediately with those in need, those who urgently needed help," Singh said. "And we've been busy."
The organization sensed younger mothers impacted by COVID-19 might be hesitant to ask for diapers, hygiene items, and other baby supplies, Singh said. So her staff got proactive, put out another call to the community and raised $700 in a day.
"We had staff go out and pick up diapers, products and baby food. We knew the young mothers that may be in need, and began to contact them to see if they were ok."
Domestic violence picked up as well, and the Hayworth centre had to relocate seven women almost immediately to escape violence.
"The EHCW led by Mrs. Sunder Singh, has provided nearly three decades of community service to our community's most vulnerable, especially new immigrants and women facing abuse," said MPP Tom Rakocevic.
"During the pandemic, EHCW has been innovative in delivering help through daily calls to seniors in isolation, delivering meals, handing out PPE, and so much more. Their work has been life changing for many."
Recently the United Way has reached out to the Centre and asked them to be a food hub for the area, and they are continuing to produce thousands of prepared meals for families in need that are available on Fridays.
"We want to make sure families are ok during the weekend," Singh said. "It's during the weekend that they are not in touch with the Community Centre. So, we want to make sure there is food on the table, items available for babies."
And the organization is seeing items like children's and baby furniture disappear as soon as they bring them in. This past week, they welcomed a car full of toys from a local lawyer.
"We are asking people to donate money, food and to volunteer," Singh said. "We are always looking for donors and volunteers to help and clients who are in dire need."
And they are constantly looking for other opportunities to make the community a better place, Singh explained.
Many single moms and vulnerable families have lost cars, or continue to live without them, Singh said. And the TTC tickets they used to gather for clients simply aren't the right solution right now. So, with another call out to the community, they have been asking people to donate used bicycles as a way to continue answering transportation needs.
It's a unique time, Singh said, that requires unique ideas and consistent generosity and community thinking.
And she said, this community, has consistently answered the call.
"The Royal Bank has been with us for over 20 years, and been a very faithful corporate giver. Anytime we have asked for help, they have been there," Singh said. "And this community, whenever we have asked, has answered the call. Everyone has been more than willing to help."
So, if you want to get involved, or do more for the vulnerable populations in Emery Village, you can reach the centre located at 2350 Finch Ave W by phone at: 416-663-2978
You can email them at: info@ehcw.ca
Or, visit them on the web at: www.ehcw.ca