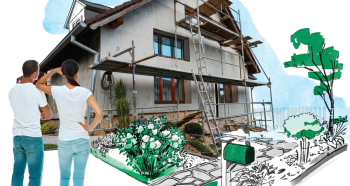 By Sean Delaney
To renovate or to move? It seems to be the age-old question for homeowners across the country. It's no different in Emery. Many of the Emery area homes are older, and in need of repair or a full renovation? You may find yourself needing more bedrooms if your family grows. Or that your kitchen falls out of style, or the home otherwise stops meeting your family and lifestyle needs as your household shifts and changes. It may be time to start considering the cost to renovate your house or start searching for a new dream home—but how can you possibly decide which is better for you? Consider this, borrowing against home equity can be less costly and less of a hassle than taking out a new home mortgage as well. If you love your neighbourhood and much of the wonderful greenspace that Emery has to offer, you don't have to move. Remodelling lets you stay where you're at, which can be a huge advantage if you love the local schools and your neighbourhood.
The Emery Village BIA has many member companies that are some of the best pro's the area has to offer. Or you may consider yourself an excellent candidate to tackle some of the renovation work yourself and purchase from one of the many Emery building supply companies.
Emery BIA members to look to:
Richview Renovations & Restoration Inc.
94 Kenhar Dr., Toronto, ON
www.richviewflooring.com
Phone number: 416-741-5577
---------------
Bernardi Building Supply
469 Garyray Drive, Toronto, ON
www.bernardibuildingsupply.com
Phone Number: 416-741-0941
---------------
Amazing Bathroom & Kitchens
1 High Meadow Place, Toronto, ON
www.amazingbathroomskitchen.com
Phone Number: 416-420-5247
---------------
AMS Kitchens & Millwork
873 Fenmar Dr., Toronto, ON
Phone Number: 416-744-8256
---------------
Home Hardware Stores Ltd.
1841 Wilson Ave., Toronto, ON
www.homehardware.ca
Phone Number: 416-740-9131
---------------
Palace Railings
104 Kenhar Dr., Toronto, ON
www.palacerailings.ca
Phone Number: 416-514-0672
---------------
Stair Star Inc.
208 Toryork Dr., Toronto, ON
www.stairstair.ca
Phone Number: 416-746-4462
---------------
Rivalda Oaks Kitchens
867 Fenmar Dr., Toronto, ON
www.rivalda.com
Phone Number: 416-741-9998
---------------
Aqua Kitchens Studio
871 Fenmar Dr., Toronto, ON
www.aquakitchens.com
Phone Number: 905-760-9668